Now, I know someone commented "How the heck do you keep track of all these bank accounts?" before, and I'm sorry I didn't reply right away. Someone else asked again, so I got off my butt and whipped up a diagram to explain it. It's not that bad, and it's worth it get the best interest rate for my cash. First, I use Yodlee to track bank balances. This way I just log in to one site, and at a glance I can see balances and recent transactions. If I need more detail, then I can log into the respective bank websites. Yodlee also recently added access to Emigrant Direct, so that was nice.
Now to explain how I transfer money to and from these accounts, here is a picture. Please excuse my mad Microsoft Paint skillz.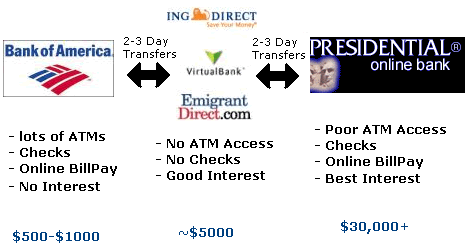 Bank of America – I use BofA as my local bank, to get cash and deposit checks. They have ATMs everywhere I live (mostly). I just switched to the one with $500 minimum and no Direct Deposit requirement, and I always keep between $500 and $1000 there since they don't give any interest.
Capital One 360 / VirtualBank / Emigrant Direct – I use all three pretty interchangeably as a gateway between accounts, since they all allow linking of external accounts. VirtualBank is the predominant one due to their adequate interest rate and shorter hold times on money. I keep a couple thousand in these banks as a buffer – anytime I need to transfer money somewhere, say to BofA, I can transfer it there within 2-3 days. In the meantime, it's earning interest.
Presidential Bank – I consider this my main bank. With Direct Deposit, the Internet Checking Plus Account [review] is free. From it, I can do everything you'd want from a checking account. I write checks, I use their online BillPay to pay all my bills not charged to credit cards, I can even wire money or request cashier's checks. The only sticking point is that free ATM access is sparse, but not impossible. I also have the Premier Savings Account here, from which I can make instant transfers to the Checking Account. Of course, I definitely wouldn't use this bank if it wasn't for their outstanding interest rates.
So to recap, I use Presidential Bank for everything I can, and only use BofA locally for cash and depositing checks. The other online banks are mainly to facilitate the transfer of money between these banks (and any other banks I open for free money bonuses).