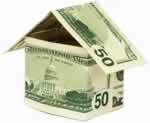 Calculating net worth from an accounting perspective is simply assets minus liabilities. However, most people who track their net worth (like me) end up making some judgment calls. I mean, that printer by your computer has a value. If you put it up on Craigslist, you might get $20 for it. But I doubt you measure it's value in your "net worth". What about your car? Jewelry? Your home?
Here are some ideas on accounting for your home in your net worth:
Option #1 – Estimate market value, and subtract amount owed.
I think this is the most technically accurate definition of home equity: fair market value (asset) minus loan balance (liability). However, the hardest part is calculating fair market value. Even professional home appraisers have told me it's "not rocket science" and there is a lot of subjectivity. (Hint: Most appraisals are ordered by the lender, and the lenders really like it when the home appraises near the purchase price. It makes loans go through smoothly.)
Some ways to estimate current market value:
Use a home valuation website like Zillow or Cyberhomes. The problem is that these sites often rely on tax records or other databases with outdated information, leading to some weird numbers. Even comparing the exact same house on the two websites side-by-side, I have found them to differ by up to 20%.
Take your purchase price, and then adjust according to the the percentage change in your area. For example, if you bought for $200,000 and the median house price in your town went up 10%, then put your value at $220,000
Use your local tax authority as a reference. Some areas estimate your home's value every year, and use it to find your property taxes due.
Do your own comps. Did a neighbor's house just like yours sell recently? Find the cost/area ($/sq.ft.) and compare to your own square footage.
Finally, you could also take off 3-6% to account for the (almost) inevitable real estate commissions you'll have to pay upon selling.
Option #2 – Track the amount of mortgage balance loan paid off.
Here you essentially assume that your home just stays at the price that you paid for it. So all you need to track is the sum of your down payment and the amount of loan principal paid off so far. This should be included in your mortgage statement.
Alternatively, you could view this as a "countdown to loan payoff". You're ignoring the month-to-month fluctuations of the real estate market, and focusing on what you have left to pay before actually owning your home.
Option #3 – Just ignore it.
If you plan on staying in your home for the foreseeable future, then you may not care what your home value is. Your mortgage payment is simply a housing payment like rent, except that one wonderful day it you'll just be left with property taxes. It doesn't change how you spend your money, or how much you wish to save.
Any other ideas?