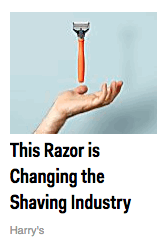 …that's the ad text that they used to target me, apparently someone who may be interested in bright-orange, modern-looking razor blades. I couldn't find the exact ad again, but a similar one is to the right. (Alternate title: Harry's Free Trial Review: Bendy Razor Blades, Easy Cancel)
Well, they were right. I decided to try the Harry's "Free" Trial which includes a razor and some gel for $3 including shipping. If you don't like it, just remove the subscription plan in your online account and you get to keep everything else.
Okay, so what happened? The primary reason that I will not be buying any more Harry's Razors doesn't involve cost at all. I simply don't like their design. The blades are proprietary and have a unique "bendy" hinge that I describe as like having a tongue lick you. A tongue that makes it impossible to get the firm shave that I prefer.
I created an animated gif to help illustrate:
After doing this trial, I found that the Wirecutter review site had a similar opinion:
Rather than clipping to a pivoting axis, the way most modern razors do, Harry's cartridge attaches with a flexy rubber pseudo-hinge that bends when you press it into your skin. Harry's claims that this design yields an effect that, like "a paintbrush on a wet canvas … flexes to the contours of your face for precise control." In fact, the opposite is true: The cartridge yields too much, resulting in a sloppy shave.
I don't consider myself a picky razor user, for a while I've been using a basic Gillette Mach 3 bought from Costco for $1 or under each. (I was surprised to see The Wirecutter also chose a Mach3 blade cousin as its winner.) As I can last more than a month with each razor (dry after each use), I am already spending less than a dollar month on razors. I have not tried the Dollar Shave Club. For me, buying a bulk pack of razors once every two years requires less mental bandwidth than having to manage an online subscription.
I'll keep the rest of this review short and simple:
Ordering was easy, site design is nice, and the trial shipped promptly.
Canceling the trial was also easy with no hard sell.
I did not like the razor design, and for that reason will not be ordering any more Harry's razors.
Shaving preferences are very subjective. I would still recommend the Harry's trial itself.