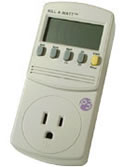 How much is your TV costing you even when it's off? How much money would you save if you powered down your computer every night? You can answer these questions with the Kill-a-Watt Electric Usage Monitor The term frugal gadget is no longer an oxymoron 😉
In short, you stick it in between the power outlet and any electrical device, and it'll tell you how much energy it sucks. Many objects keep using electricity even if it's not turned on. Get how much you pay per kilowatt-hour from your electric bill, and you can easily find out how much you're paying to run everything in your house. I really want one of these. At about $25-$30 shipped, I'm trying to justify buying one by getting it to pay for itself in energy savings.

I keep a lot of stuff on all the time mainly for convenience, like my printer, fax, my computer, and sometimes my laptop. Probably not a good idea. It would be cool if you could justify buying an LCD monitor to replace a CRT based on electrical savings costs.
From reading some online reviews, here are some anecdotes (and thus unverified by me):
– An air purifier unit cost about $12 a month, or ~$150 a year to run.
– At 2 hours a day, a TV only cost $2 a year to run.
– A computer running a distributed computing project (like SETI@Home) 24 hours a day cost $27 a month ($324/year).
– Running the same computer with just normal applications 4 hours a cost $5 a month ($60/year).
– Overall, computers can draw from 100 Watts at "idle" up to whatever its power supply is rated at.
– Many objects drain power even if they are doing nothing, called phantom or vampire power. It's small, but significant enough to add up over time. Power strips can be used to counteract this.
– A lot of times the stated wattage on a device is off by up to 50% of what it really draws according to the manufacturer label.
As I type this, I notice that I should probably unplug my VCR right now, seeing as I have only used it once in the past year. I wonder how much energy my TiVo uses… Anyone have one of these meters?