I am trying to gain more control over my diet, while also compiling more easy (preferably really easy) yet tasty recipes. First up is making my own lunch. I think it's important when brown-bagging to make it tasty and attractive, so you don't actually feel like your depriving yourself. Don't just slap a sliver of cheap meat on some Wonderbread. Instead, you should take advantage that you are making the meal yourself. Put anchovies on the thing if you want.
In order to minimize the overall prep time, I bought all the ingredients at our usual grocery store (Safeway) during our usual shopping trip. Prices are actual prices, I bought regardless of if it was on sale or not. I also took into account the inevitable bit of extra waste from perishable ingredients like wilted lettuce or moldy bread, by including total package costs.
Shopping List
Sandwich
$2.50 for 1 loaf of 12-grain Oroweat bread (18 slices)
$5.25 for 3/4 lb of Black Forest Ham, thinly shaved from deli*
$1.75 for 1/4 pound of pepper jack cheese, thinly sliced
$1.75 for 1 large tomato, cut into 10 thin slices
$1.49 for 1 head of iceberg lettuce
$0.25 (est.) for pantry item Honey Mustard (1 bottle is $2.25)
—————-
$12.99 total, $2.60 per day
* You could buy smaller amounts of different meats like turkey breast, if you wanted to mix it up. When I feel like eating vegetarian, I buy a tub of hummus instead of meat.
** If you bought things on sale, or actually shopped around, you can probably reduce these prices by 20-40%.
Snack
This is estimated at $.30 cents per day. You could make it less by buying in bulk and packaging yourself, but the savings started getting small so I just went for simplicity. Examples:
$0.27 for single-serving assorted potato/tortilla chips ($6.49/24 bags)
$0.30 for baby carrots (split a 1 pound bag 5 ways, $1.50/lb)
$0.42 for a 100-calorie-pack of crackers. ($2.50/6 bag box)
Drink
Tap water is free, but I like drinking a Diet Coke for both leaving a sweet aftertaste and the extra bit of caffeine. If I didn't already buy it previously on sale, this would have cost $.50 per can.
Preparation and Time Spent
Not much prep for the sandwiches. I just had to cut the tomato, peel off the lettuce, and then portion everything out into 10 reusable plastic containers (2 per weekday). I have one container for the bread, and one container for all the wet ingredients. I put a dab of mustard in between the ham and cheese. The separation keeps the bread from being soggy before eating. If I'm not lazy I toast the bread.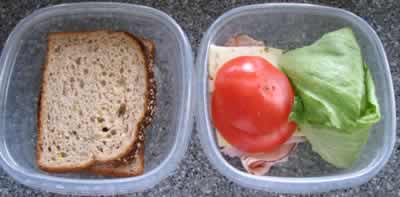 Packing all the materials for the entire week took less than half an hour. Actual photo of final product at the top of this post. Doesn't it look like something worth eating for lunch?
Total Cost
The sandwich and snack combo costs a little under $3. This is actually more than I thought it would cost, although I think it's relatively healthy when I eat it with carrot sticks (which I usually do with a dab of fat-free salad dressing). If eating out for lunch would have cost $6 per day, then that half hour on Sunday saved me $3 x 5 days = $15. $30 an hour post-tax is like earning $60 an hour pre-tax, so that's pretty good. On top of that, I have the power to eat healthier and control what I consume.
Sure, if I consciously chose to work an extra 2 hours a month to "pay" for eating out, I could use my time that way instead. But if I'm honest with myself, lunch-making just takes a half hour that would have been spent goofing around on the internet before bed.
Clever Dudette has more frugal lunch ideas. Do you have your own tasty buy convenient lunch routines? For next week, I am thinking of making it the Fried Rice edition.