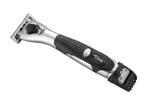 Y'all know how much I like them free razors. And this one comes with a trimmer! Via SlickDeals.
If you're at work, turn the sound down. Although not obscene, this involves is a pillow fight with lots of girls squealing. My wife was very curious as to what I was doing online…
Now go to TrimFlixx.com and enter your birthdate (must be 18 years old to get the free razor).
Upload an image when asked, any will do. If you need one, try downloading this to your Desktop first for some laughs at the expense of the world's richest man.
Finish and play the movie, and then click on the Save button on the bottom. Check the box "Throw in a Free Sample while you're at it." and fill out your info. Hope it comes!