(This offer expired at the end of 2006.)


Is it just me or are iPods quickly taking over the world? A new trading site, Hedgestreet.com, is offering a free 1 GB iPod Shuffle for opening an account, funding with at least $100, and making one trade. No trading fees for the first 30 days. You can start trading immediately when you open the account. However, this is because you cannot take out your money for 30 days after deposit.

Hedgestreet is not a stock brokerage. Instead, you are essentially betting on the prices fluctuations of things like crude oil by buying or selling contracts with other users of the site. I am in no way an expert about these things, I simply watched their training demos (actually very helpful) and looked for the cheapest contract I could get into. I definitely recommend signing up for their mock trader service to play with some fake money first.
In the end, I sold a crude oil future with a maximum gain of about $97 and and maximum loss of $3 (it calculates this for you). As you'd expect, it was very unlikely that I'd win that $97. However, I just wanted the iPod, so I made the trade and ended up losing $2.50. Not bad for a Shuffle. Funnily enough, I already have one from another expired pseudo-brokerage offer.
I should add that if you are reading this on a weekend, there will probably be no binaries or future to trade until Monday. Sorry! They should really add some fake contracts to the mock trader.
If you are especially industrious, due to the lack of trading fees, you can try to buy and sell both sides of the contract to make your end cost even lower. In fact, their tagline – "It's like being paid for being smart." is interesting. Given that you are simply trading with other users, could this market be inefficient enough for dependable profit? Kind of like poker? Personally, the likelihood of me knowing more about the price of gas than the next guy is next to nothing, so I'll just wait patiently for my toy.
Referral Program
There is also a referral program, where I get a free iPod for referring you, and you get an iPod (same as above), but with 60 days of free trading instead of just 30 days. Not too enticing, but it does help me get an free iPod at no cost to you. If you're interested in this, please contact me and I'll get a referral e-mail out to you ASAP. You have to use the same e-mail that you give me to open the account.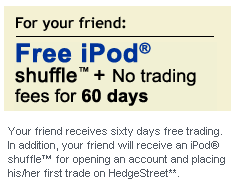 Fine print is here. Offer expires 12/29/06. They don't mention if they will send out a 1099 for the retail value of the iPod.