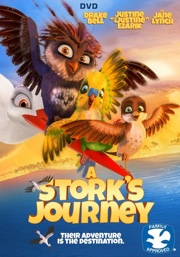 Looking for some free family-friendly entertainment? The new movie A Stork's Journey is currently free to redeem on Google Play (digital HD version). You can stream it to your computer, smartphone, or TV box. Limited offer from June 1 to June 28, 2017. I'm not really sure why, but it's not going to be released in theatres until June 30th.
Here's the trailer and short summary:
Featuring the voice talents of Drake Bell (Superhero Movie, Drake and Josh), YouTube star Justine "iJustine" Ezarik, and Jane Lynch (Glee, Wreck-It Ralph), A Stork's Journey follows Richard, a sparrow orphaned at birth and raised by storks who believes that he is a stork, too! But when winter comes and the storks prepare to migrate to Africa, his stork family must reveal his true identity and leave him behind in the forest with the other sparrows since he would not survive the long journey. Determined to prove he is a stork after all, Richard ventures south on an epic adventure, accompanied by friends big and small, to unleash his true potential and be reunited with his family.