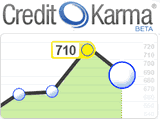 Last week, I pointed out how to get a free Experian credit score via Prosper. You can already get free credit reports from AnnualCreditReport.com as well as in other special situations. But what about services like daily credit score monitoring?
Now, a new site called CreditKarma is offering free daily credit scores. For comparison, FICO's own Score Watch program costs $89.95 per year. So what's the catch?
It's not a real FICO score. This is another FICO-clone, with a score ranging from 300 to 900. (FICO is from 300 to 850.) It also doesn't say from which bureau this score is based upon, as they say they can pull from any of the big three (Experian, Equifax, Transunion). My guess is that they'll use whatever is available that is both cheaper than FICO and still reasonably accurate. That's what I would do…
You only get the score. The service is pretty barebones. You don't get information about who's pulling your credit, how often they are doing it, or information about your existing credit lines. So the "alerts" feature is missing. Instead, the primary attraction is the ability to see trends – is your score increasing or decreasing over time?
They are advertiser-supported, so I guess they are counting on people to obsessively check their score every day. I've always been a bit mystified by such behavior, but I don't check the stock market ticker all day long either. From their privacy policy it seems that they are using your personal information to target ads to you, but aren't actually sharing your info with others unless you opt-in. I sure hope not!
Security and Privacy Concerns
Okay, it's free, so price isn't a barrier to using this service. But it's definitely wise to think twice before giving out personal information like my Social Security number to a start-up company. I read through their site, and didn't see any glaring security holes. They use common third-party systems like ScanAlert Hacker Safe, TRUSTe, and Verisign. If you do notice something fishy, please share in the comments. The CEO will be reading, given that he's the one that told me about this site.