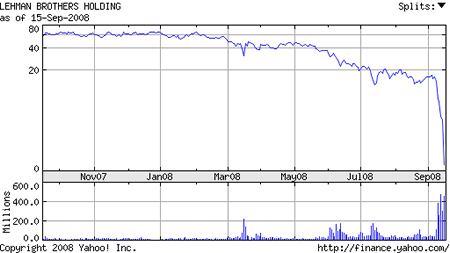 Yesterday on CNBC, the Bank of America CEO Ken Lewis talked about the financial meltdown. He pinned on a few things: greed, leverage, and keeping up with the Joneses. Lots of homeowners out there are in trouble with their mortgages. Some got defrauded, some simply made poor decisions. But Wall Street executives that earn millions of dollars a year also got caught up in the exact same mistakes.
Greed & Keeping Up With The Joneses
John and Jane Taxpayer want a nice big house. They've never been able to own one before, with only tiny savings and so-so credit. But they want one so bad! Besides U.S. home values would never go down, right?
Wait… maybe this might not be smart. But my friends and neighbors have new houses, so that must mean it's okay! Sign me up!
Bob and Christina the CEOs run an investment business, and want big profits. He's earning a decent amount with his hedge funds and traditional bonds, but man, these collateralized debt obligations (CDOs) are yielding like 10% and still look safe. They are based on mortgages, and U.S. home values would never go down, right? With these increased returns, I'll be an hero, and my company's stock price will soar!
Hmm… maybe this might be riskier than it looks? But wait, the big boys like Washington Mutual, Bear Stearns, and Lehman Brothers are doing it. Sign me up!
Leverage
John and Jane Taxpayer used to need 20% down and good credit for long-term fixed rate mortgage. They only have $5,000 saved up, but want a $300,000 house. Hey, no problem! You just need that $5,000 and you can have your house… with 3/1 ARM that resets to a sky-high rate (which you can refinance later, I promise…). Mortgages are the easiest leverage to obtain for consumers. Three years later… the house value dropped 25% and is now only worth $225k. They put up $5k, and are now down $75k.
We can ride out the storm, as long as we can refinance this adjustable 15% rate! Somebody lend me more money!! No? Crap.
Bob and Christina the CEOs usually only buy investment with their assets. But man, these CDOs are such a good deal. Based on my currently good credit rating, I can borrow at like 7% and these CDOs earn 11%. Sweet leverage! So even though I only have like $10 billion dollars, I can use that to buy $100 billion dollars of tasty mortgage-backed securities!
Of course, if they start getting valued at 75 cents on the dollars, my $100B turns into $75B. I started with $10B, and now on paper I've lost $25B. Our credit rating drops. We need more capital. Somebody lend us more money!! No? Crap.