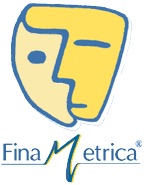 Spend any time researching investments, you'll eventually run across the concept of "risk tolerance". If you don't hold an investment through both the ups and downs, then you won't enjoy its average returns, either. So how can you predict your behavior ahead of time?
What the financial industry uses is a risk tolerance survey, or risk questionnaire. You are asked a series of multiple choice questions based on theoretical scenarios to find your risk tolerance. You or a hired professional can then use that information – along with other factors like risk required and risk capacity – to determine your portfolio. I've taken several of these online assessments, but can someone really know how they would react to a 50% drop in their net worth in an environment of mass panic, without actually experiencing it? It is the real-world behavior that matters.
If a risk survey is the best tool available, what is the best risk survey? Which one is most carefully-written, backed by academic research, and historically vetted? From what I can tell, that is the Finametrica Risk Profiling Survey. Normally the cost is $40 for an individual to take the test, but I ran across a discount in this CNN Money article:
You can get a more accurate gauge of your appetite for risk by completing a risk tolerance questionnaire. Vanguard has a good asset allocation tool that's free, while FinaMetrica offers a more comprehensive version for $40 (although given recent market turbulence FinaMetrica is offering the test and the nine-page report that comes with it for $4 until the end of September). Both tests recommend an investment portfolio based on your answers.
Okay, four bucks, I can handle that. (The promo has been extended to October 31st, as well.) I paid, answered 25 multiple choice questions, and I was done in under 10 minutes. Of course, a few more minutes of poking around and I discovered the same test for free by clicking here. Pfft. What's up with that?
(Update: Reader Jason points out that the free version doesn't accept free e-mails like "gmail.com". I would suggest trying various free e-mail forwarding services if you want a workaround. Just google "disposable e-mail".)
Questions. I took screenshots of the entire survey but I won't post the specific questions here. They do share these sample questions, which I can confirm are actual questions from the paid test.
1. Compared to others, how do you rate your willingness to take financial risks?
Extremely low risk taker.
Very low risk taker.
Low risk taker.
Average risk taker.
High risk taker.
Very high risk taker.
Extremely high risk taker.

2. How easily do you adapt when things go wrong financially?
Very uneasily.
Somewhat uneasily.
Somewhat easily.
Very easily.

3. When you think of the word "risk" in a financial context, which of the following words comes to mind first?
Danger.
Uncertainty.
Opportunity.
Thrill.
The general idea is that the questions poke and prod you from various directions, trying to avoid having one misunderstood question alter your overall results. The questions were all brief and multiple choice, except for the last one which asked you to predict your own risk tolerance score relative to the overall population.
Results. Well, I guessed that my score would be 50 out of 100. My actual score was 54 out of 100, which they say is "slightly-higher-than-average" and actually in the 64th percentile. (So the score isn't a percentile even though they are on a bell curve? I'm not good at statistics.)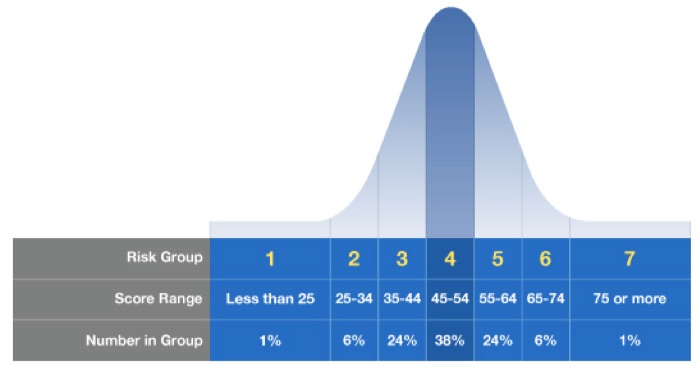 According to your risk, you are assigned one of 7 Risk Groups. You are then told the "typical attitudes and values" for people of your Risk Group, as well as if you differed significantly in any specific areas. Here's how people in my Risk Group 4 would have picked their overall portfolio: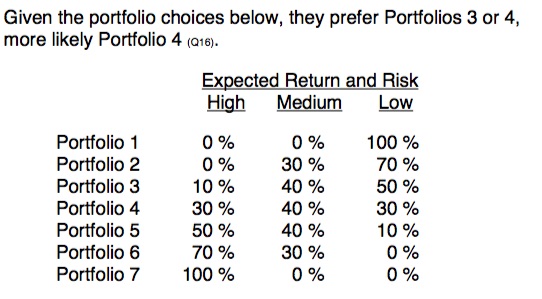 So my risk tolerance peers would pick Portfolio 4, but in reality I am between a Portfolio 5 and 6.
Finally, you are provided a summary chart. Here's mine: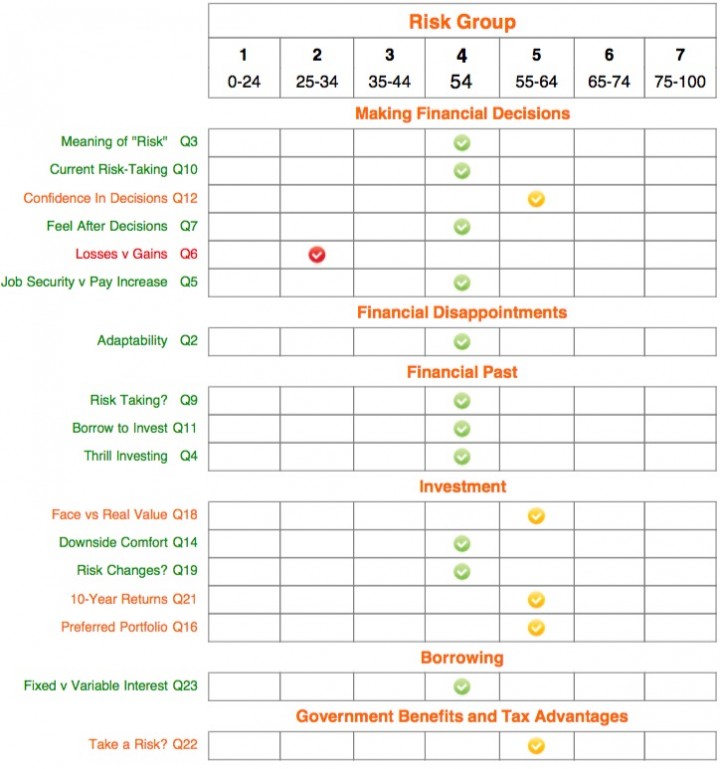 Final impressions.
Relatively good risk tolerance survey. I've already expressed my view that these surveys are only one limited piece of the puzzle. But as far as risk surveys go, this one did feel like it went more in-depth than others that I have tried. However, I would have enjoyed more interactivity and/or questions using charts and/or graphs.
Best as a tool to help communicate your personality to others, like spouse or financial advisor. I didn't feel the report was very useful to me. I already know that I am a relatively conservative investor who also knows that I have to take some risks to beat inflation. The real value of this survey is that it would help describe my investment personality to my spouse, partner, kids, or financial planner. So if it's just you, I don't know if I can recommend it. If you want to educate a family member, then it may be worth the time and money. If you have an advisor, get them to pay for it. 🙂
$40 price point is high for individuals. As a DIY investor, I would not have paid $40 to answer 25 multiple choice questions about myself. I can definitely see an advisor paying that much on behalf of their client as part of their service (and many do). At the discounted $4 rate, I thought it was worth it. Of course, free would have been even better…
Don't expect any specific portfolio recommendations. The CNN article promised a "recommended investment portfolio based on your answers". I don't think that is an accurate statement (see table above). I would say you just get a very high-level breakdown of what other people of a similar risk level "would prefer". They don't even use the words "stocks", "bonds", or "cash".