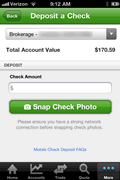 Fidelity Investments has just added some handy new features to their Apple iOS and Android OS apps. You can now use their BillPay service, transfer funds between accounts, and deposit checks remotely via camera. Before, you were limited to viewing account holdings and making trades. Competition is good, and I expect all major banks and brokerages to offer these features soon.
Mobile Check Deposit
Basically the same as other apps, you take a picture of the front and back with your smartphone camera. You can deposit only into non-retirement accounts, and the back must be endorsed with the text "For deposit only to Fidelity account #XXXXXX". The deposit limits vary.
BillPay & Funds Transfer
You can pay bills with your mobile app, either through a regular brokerage account or their mySmart Cash Account (basically their checking account replacement product). Fidelity also allows you to link outside banks to your accounts, so now you can initiate money transfers both within Fidelity and externally on your phone.