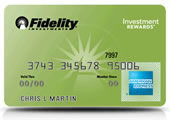 One of my long-time favorite credit cards is a grandfathered Fidelity College Rewards MasterCard that gives me 2% flat cash back on all purchases. I'm not sure exactly when I first applied for this card, but it was in the early 2000s. The current Fidelity line-up as of September 2015 is still pretty good (if you have a Fidelity account):
All three of these cards, including my legacy MasterCard, are issued by FIA Card Services, which is a wholly-owned subsidiary of Bank of America.
But watch out, this Bloombers article says that Fidelity Investments is considering dropping AmEx, BofA as partners:
Fidelity Investments is considering dropping American Express Co. and Bank of America Corp. to find new partners and better terms for one of the top-rated cash-back credit cards in the U.S., according to people with knowledge of the matter.

Visa Inc. and MasterCard Inc. are in talks with Fidelity, vying to replace AmEx on a card that's been amassing customers for more than six years, according to the people, who asked not to be identified because negotiations are private. AmEx is parting with Costco Wholesale Corp. and JetBlue Airways Corp., and losing the Fidelity deal would affect a key area of growth: facilitating transactions in which another bank is the lender.
Here's my previous post on how Costco dropped American Express for its future co-branded credit cards.
Does dropping FIA as an issuer mean the Fidelity 2% cash back cards will also get the axe? The 2% cash back graveyard already includes Schwab, Priceline, and Sallie Mae co-branded cards. I've racked up thousand of dollars in 2% cash back rewards from Fidelity, which have grown even more my sitting in a tax-deferred Fido 529 account. I think this shows that the co-branding has encouraged me to keep assets with Fidelity, but if they kill the card I will probably roll my 529 funds into another plan like Utah.
Does "better terms" mean better for Fidelity's profit margin, or better for their customers? By ending the relationship entirely, perhaps that would make it easier for Fidelity to say "sorry, we broke up, all existing cards must go". On the other hand, maybe Fidelity has the negotiating power to get another issuer on board with 2% cash back? I really can't see it going any higher than 2%.
If it does end, there will still be cards that can get you 2% in value, but as the article notes the only remaining 2% flat cash back card with no annual fee will be the Citi® Double Cash Card (review). I applied for this new Citi card is a back-up play, in case Citi also closes it to new customers but grandfathers existing users into the 2% cash back. After I paid my Citi bill using my bank account online twice, I can now get the full 2% cash back by requesting my rewards to be sent online back to that same bank account.