I received an interesting reader question last week about a scenario where you are very sure that you're going to sell your house in a few years. In that case, would paying down your mortgage principal create an opportunity for a relatively high return with minimal risk? The e-mail:
Your blog is very insightful. I had an idea that I wanted to run by you. I plan to list my condo for sale in about 14 months. Currently I have a 2nd mortgage with an 8.875% rate. I want to have the most net cash at the time of sale, so I'm thinking the safest investment I can make over the next 14 months is to pay down this mortgage. If my math is correct, I would get a 4.9% return on the avoided interest (less what I would have gotten back from deductions). Am I crazy, or does it seem like I've found a good place to put my cash until I leave?
I'm not a mortgage professional, but it would seem to me that in theory this should work. When you make the additional principal payments, every future mortgage payment will also include less interest and more towards paying the loan balance down even faster. When you sell the house, you'll get your "return" from this lower loan balance.
The annul return from paying down your principal should be roughly equal to the annual interest rate of your loan. The reader had an 8.875% second mortgage, which would seem like a pretty great short-term return over 14 months. The exact return might be a little off to the amortization schedule, it should be close. The mortgage interest may be tax-deductible, but remember that interest from a bank CD outside an IRA is also fully taxable. Check out these related posts:
Within the posts above, based on the amortization schedule of a 30-year fixed mortgage at a 5% interest rate, I plotted both the effective interest rate paid and the annual investment return from prepaying below: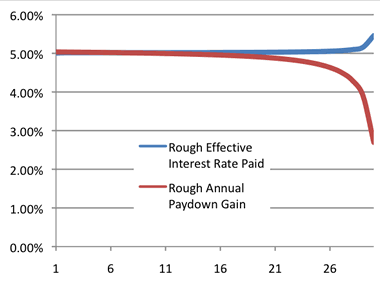 I suppose that one big risk in doing this is that you don't end up selling the house, so your cash is now stuck in the home's equity and will be more difficult to access. So you'll have to be fairly confident that you will be selling the house, or at least be okay with the possibility of just having a smaller mortgage balance.