A couple weeks ago, I was looking to interview a reader who sells on the handmade online marketplace, Etsy.com. I was surprised to get over 30 inquiries, and so I made up a short questionnaire to help better understand what it's like to sell goods on the site. 16 shopowners responded, with folks selling everything from soap to jewelry to vintage fabric.
Here are my questions and a compilation of all their responses.
How did you get started with Etsy? When?
There was a wide range of dates given, the earliest being April 2006 and the most recent being September 2009 (The site first launched in June 2005). Most respondents indicated that they were already active in their craft area beforehand, and Etsy simply offered them a new (and often better) way to sell their goods. Competitor sites that were mentioned include eBay, Artfire, and JustBeads.
Primarily, people learned about Etsy via word-of-mouth from discussion forums, other crafters, or friends. A couple of folks mentioned magazine articles.
What is your top-selling item? Why do you think it is so popular?
I asked this because I wanted to see a good representation of popular items. Positive features mentioned included that their item appealed to a broad crowd, was priced fairly, and made a great gift idea. Below is one item from each seller, along with a link to their store (in order of e-mail response). Many sellers sell one-of-a-kind items, so the item may be sold, but you can look around for similar items. Item prices range from $2 up to around $40. I love the variety!
What is your revenue per month?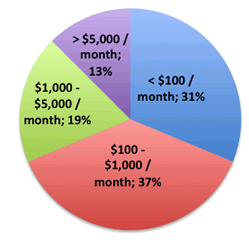 I promised to only share this information in aggregate. But my first impression was – Wow! Some people making serious money. Of course, at the other end, there are many people who are just starting out or are just treating it as a hobby. I forgot to ask if this was gross or net, but the fees are at most 10% of the gross, so it's still very impressive.
Do you think the Etsy fee structure is fair? (20 cents non-refundable listing fee + 3.5% flat of each sale.) What would you do to improve it, or how does it change your behavior?
Interestingly, every single respondent felt that the fee structure was at least fair and reasonable. The fee can be significant, especially if you realize that it does not include PayPal transaction fees of 2.9% + 30 cents. You will notice that most items are at least $2, otherwise the Etsy/PayPal fees would kill all chance of profit.
Of course, people who really don't like the price structure aren't going to be Etsy sellers. However, many people noted that the fees were much cheaper than eBay. Also, selling items through a retail "brick and mortar" store or art gallery usually means giving up 30-50% of the retail price.
* Special Note: Re-listing Items
One common theme that I didn't know about is the concept of "listing" and "re-listing". Apparently, the search results on the Etsy site are sorted by how recently you listed the item. Therefore, there is pressure to "re-list" items regularly so that your stuff shows up higher on search results and brings more exposure. If you have 10 of one item, it is better to re-list a single item over and over as they sell. Others complain that re-listing sometimes doesn't work properly, with items either taking a very long time to show up, or a bunch of items all showing up at once.
Is this a hobby, part-time job, or full-time job?
Most folks were split between hobbyists (sales are erratic and not required to live on) and folks who treat it as a full-time job. Most full-timers said that Etsy was a big part of their income as artisans, but not the only part.
— End of interview questions —
Most shopowners seemed very happy to talk about their products and experiences. I think part of this is that this is a labor of love that you have to really want to get into. It's not like being a receptionist where you're just working so that you can eat while doing your passion. This probably is your passion.
In general, there were a lot of common views with entrepreneurs from around the world. Etsy shop owners love that they see a direct relationship between hard work and results, unlike some 9-5 jobs. Customer service is important. It can take a long time to build up sales and a brand, but many see improvement each month. Networking with other Etsy sellers is very helpful.
A more specific tip would be that taking good pictures is very important. Got more questions? Leave a comment! I will let the sellers know about this post.