Did you know that 58% of people have FICO scores over 700? Here is the distribution, taken from myFICO.com: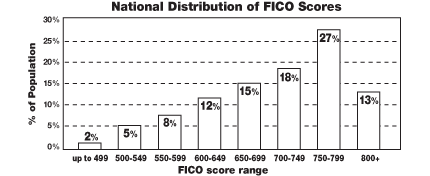 Although one's credit score is only one of the criteria for getting the lowest rate on a mortgage, and every lender has their own unique qualification formulas, I wanted to see what the general relationship between credit score and the resulting monthly payments was. Here is some data taken from their Loan Savings Calculator using national average rates, a 30-year fixed rate mortgage, and a $300,000 loan balance.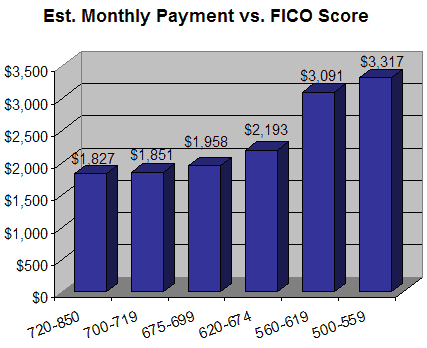 It would appear that once you reach a score of 700, you are pretty much getting the lowest mortgage rates available. And FICO seems to suggest that lenders don't differentiate between someone with a 721 and someone with a pristine score of 820 or 830. The main goal is simply to reach that "good enough" level of the top 40% or 58%. After that, nobody cares. This agrees perfectly with my previous conversations with local mortgage brokers.
On that note, I also think a good one will tell you what you need to do, if you don't qualify initially, to get the lowest rates. You shouldn't go crazy beforehand trying to tweak your FICO to wring out 6 more points. Of course this works best if you already correct any major concerns, like errors on your credit report. Have you checked your free credit report from Uncle Sam lately? I haven't, need to get on that…