There are plenty of "FAKE-O" credit scores out there, but the only place to get your real FICO score is myFICO.com. Problem is, usually these cost money and even if they are free due to some promotion, it's during some random time of the year. If you want a free FICO Score on demand, you'll have to agree to a free 10-day trial at MyFICO.com:
IMPORTANT INFORMATION: When you order your free FICO Score here, you will begin your 10-day trial membership in Score Watch®. If you don't cancel your membership within the 10-day trial period, you will be billed $12.95 for each month that you continue your membership. You may cancel your trial membership anytime within the trial period without charge.
Pain in the rear, right? Well, not really. Two things make this a 5-minute operation:
If you do not want the monitoring that ScoreWatch provides, then you can cancel immediately after you get your free credit score. Don't wait a day. Don't even wait an hour. This way you won't give yourself a chance to forget.
You can cancel with just a few clicks. 100% online, no phone calls, with no hassle. You don't have be subject to a hard sell or argue with anyone.
Here's how I did last week. First, when you go through the process to buy your free score with trial, you will have to provide your credit card information but nothing should be charged.

After that, you should receive your credit score and the related Equifax credit report. Print it out. You're going to cancel right afterward so you won't have access to the information anymore. Print – or at least print/save to PDF – anything you want to keep. This was the first time I've ever seen a score above 800!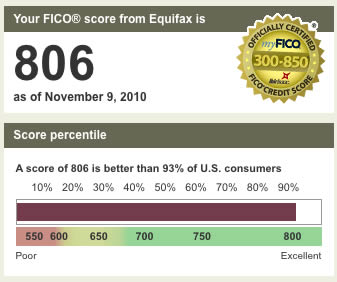 Now, don't go anywhere. To cancel, click on Support on the top right of the page, then Contact Us by email. Choose "I would like to cancel my product subscription" and for the product mark "Score Watch® – Free Trial". Here is a screenshot of what it should look like. Finally, type in your personal information and submit. There is a blank for the order number, but it is not required. I didn't bother to fill in anything optional, and my cancellation still worked fine.
myFICO should e-mail you back in about 24 hours. It took 25 hours for me. Here is the response you should get. The title of the e-mail was "Score Watch(R) Cancellation":
Your order for Score Watch® (monthly payment option) has been cancelled. You will not be charged in the future for this product.

If you have any questions, please call myFICO Customer Support at 1-800-319-4433, Monday – Friday 6:00 AM – 6:00PM (Pacific Time) or Saturday 7:00AM – 4:00PM (Pacific Time).

Thank you,

myFICO Customer Support
That's it, a free credit report and score with minimal hassle direct from MyFICO.com. Remember, when you request your own report, it doesn't affect your credit score at all.