Most people will guess that the heater and/or air conditioner is the biggest source of electricity usage in the average home. But what about the second-largest?
The HD DVR Cable Box, at least according to the LA Times (what about water heating?). Digital video recorders are basically computers that use about 35 watts (some up to 50W), but the problem is that unlike desktop computers they use that much power even when "off" or on standby. I used to keep mine behind a cabinet door and it always felt like I could cook an egg on top of it.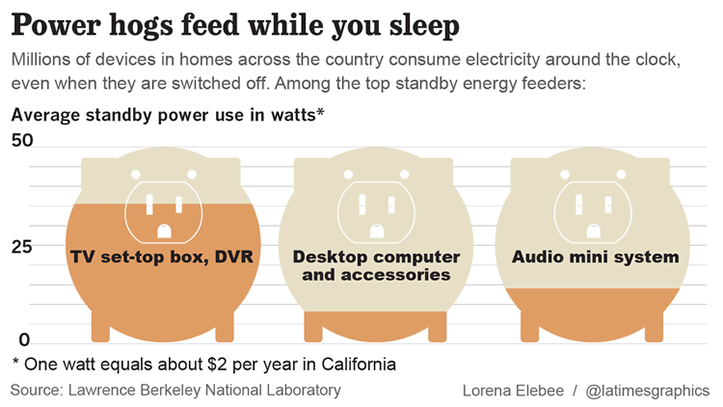 Here's another graphic from the NY Times on the same issue: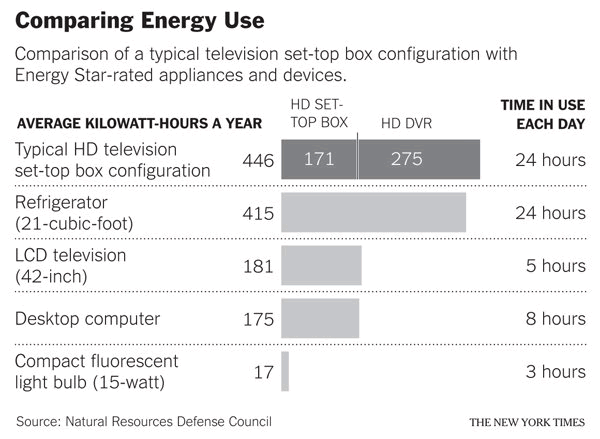 At 35 watts, that's like running three CFL bulbs (13W, 60W equivalent) all the time, 24 hours a day, 365 days a year. Depending on if you have the cable box and DVR separate, you are looking at roughly 300 to 450 kWh per year. That is $50-$75 per year, per box, at 16 cents a kWh. Many people have two or three boxes in their homes.
One source of this problem is that the cable companies have no incentive to make their boxes more energy-efficient. You pay the electricity bills, not them, and you either don't know about their vampire energy use or are subject to their local monopoly anyway.
You could put the cable boxes on a timer if you never record shows at certain times, but you'd want to leave time for both the 10-15 minute boot-up and the regular downloading of the day's channel line-ups. Most people expect their TV to work instantly.
Or you could just drop cable. Apple TV and Roku internet streaming boxes (Netflix, etc.) use much less power when idle and you can just unplug them when not in use. (Startup time is under a minute.) From an older GigaOM post: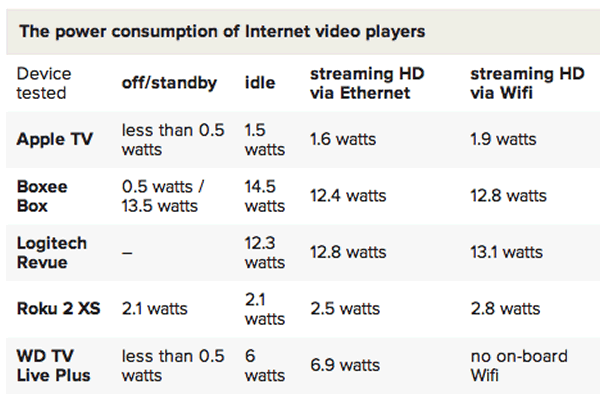 The newest Roku 3 supposedly uses 3.5 watts when streaming HD video while the Streaming Stick uses about 2.5 watts. Both are reported to use about 2 watts when idle.