What types of folks tend to own luxury cars? At the end of a BusinessWeek article about the struggling Lincoln brand, I ran across this chart detailing the median income and age of the respective owners of each major luxury brand: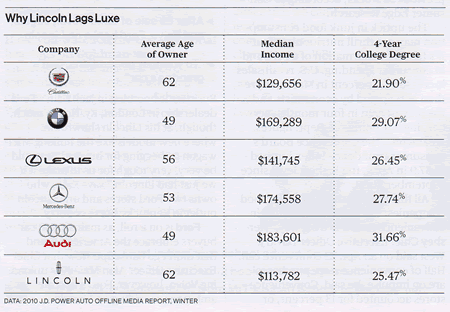 Age
Overall, this a bit older than I would have guessed for a median age. But since wealth tends to increase with age, I suppose it makes sense. BMW and Audi has the youngest crowd, with Lincoln and Cadillac with the oldest.
Income
I wonder if the JD Power survey asked for individual or household income. According to the 2005 Census, a household income over $100,000 puts you in the top 15% of the country. A household income over $150,000 puts you in the top 5%.
According the the chart above, the median luxury car owner is easily in the top 10% of income. Is it just me, or does it seems like a lot of people who drive such luxury cars aren't making six figures? You can lease a BMW 3-series or Audi A4 for $400 a month. That makes for a lot of very high-income folks on the other end of the curve.
Education vs. Income?
Digging into the education numbers tells a different side of the story. About 25% of the overall US population has a 4-year degree or higher, which is actually about the same as the median luxury car owner. Meanwhile, the overall median household income is $45,000, and only rises to $73,446 if you have a Bachelor's degree or higher (2003 census).
Therefore, while the median luxury car owner is about as (formally) educated as the overall population, they make triple the income versus the overall population, and still double the average of people with 4-year degrees or higher. I find that interesting.
After running some numbers, simply owning a luxury brand don't necessarily mean that much. A person who leases a Toyota SUV every three years spends more money in the long run than a person who buy a Lexus and drives it for 10 years. Another example… let's say an Acura costs $15k more than the Honda counterpart. Over 10 years, that's a premium of $1,500 per year or $125 per month (plus slightly higher maintenance and insurance costs). An iPhone family plan costs more than that.