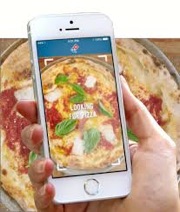 I find it interesting how Domino's Pizza rescued themselves from oblivion by (1) improving the taste of their pizzas so they don't remind you of cardboard and (2) fully embracing mobile (lazy) ordering. Their smartphone app lets you apply coupons easily, order quickly, and tracks your order in real-time. There have so many business articles about this turnaround that they created a website to track them all at PizzaTurnaround.com.
The Domino's rewards program requires 60 points for a free Medium 2-topping pizza. Their new Points for Pie promotion will give you 10 free points a week with no purchase required. You must simply take a picture of any pizza* using their app. This works for up to 6 weeks for 60 points total, enough for a free pizza. Points expire 6 months after earning.
Bottom line. Free pizza. If you already had some points in this program like me, this promo can get you put you over the top.
* Hint: If you simply have picture of pizza on your computer and take a picture of that, digital pizza works. Just run an image search for "pizza".