Recent articles by Bernstein Wealth Management [pdf] and Kiplinger's Personal Finance suggest that as we continue to live longer lives, this should increase the percentage of our portfolios that we devote to stocks.
Living Longer…
A 2000 study by the Society of Actuaries states that a male who reaches age 65 has a 50% chance of living beyond age 85 and a 25% chance of living beyond 92. Women can expect to live two to three years longer than men. More importantly for couples, you are now looking at a 50% chance of one of you living beyond 92!
Means Some Potential Changes
Bernstein then ran some Monte-Carlo simulations using historical data (for what years, I couldn't tell) to "help quantify the impact of alternative allocation and spending decisions over varying time periods and markets." The basic scenario was a couple who retired at 65. The variables were how aggressive the portfolio was (20%-100% in stocks), and how much you withdraw from the portfolio each year (2-7%). Here are two summarizing charts and some of their findings: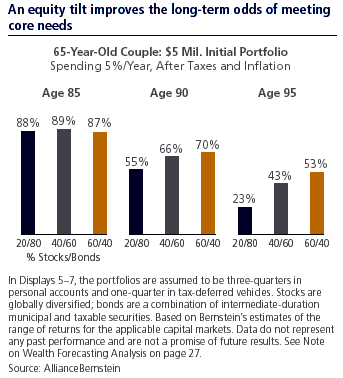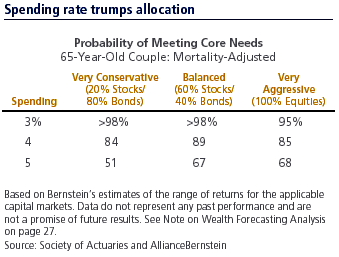 If you're going to spend a relatively high percentage like 5% of your portfolio, it is important to keep your stock percentage at least at 60%. But, increasing it to all the way 100% doesn't help much, and increases the downside in a bear market.
At a low spending rate, like 3%, then your stock percentage doesn't matter that much either way.
Although spending and allocation are both critical factors, the former tends to exert a more powerful influence. Simply working a bit longer in order to delay spending can increase your success rate significantly.
Conclusions
Taking into account these findings, the Bernstein paper concludes that although bonds are a traditional safe-haven for retirees, their increased longevity make the growth from stocks important throughout one's lifetime. They suggest that a proper compromise between these factors is a portfolio of 60% stocks and 40% bonds, along with a 4% spending rate. This gives the couple an 85% chance of having their money last till death.
Glassman of Kiplinger also makes his own suggestions:
Bernstein emphasizes that individual clients' needs differ. Certainly, but based on this report and other research, I have decided to raise my suggested quick-and-dirty stock allocations for retirement accounts this way: If you're under 40, there's no reason not to own a 100%-stock portfolio. Between ages 40 and 60, you can move to an 80-20 stock-bond ratio. Between age 60 and retirement, shift to keep at least 60%, and in most cases closer to 70%, in stocks.
This is much more aggressive than almost all the Lifecycle or Target-dated Funds (see here for a comparison between Vanguard and T. Rowe Price Target Retirement funds.)
My concern would be that with so much in stocks, when people "fail", they fail by a lot, whereas with bonds it might be easier to compensate for a slow stock market by working part-time. I'm undecided as to if this study will cause me to make any changes.