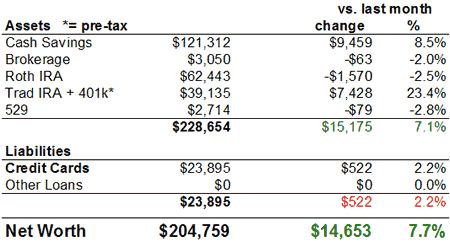 About My Credit Card Debt
If you're a newer reader, you may have some concerns about my high levels of credit card debt. I'm actually taking money from 0% APR balance transfer offers and instead of spending it on junk, I am placing it in high yield savings accounts that earn me 5% interest or more, and keeping the difference as profit.
Along with other things, this helps me earn extra side income of thousands of dollars a year. Recently I put up a series of step-by-step posts on how I do this. Please check it out first if you have any questions. This is why, although I have the ability to pay the balances off, I choose not to. Also mixed in are our monthly credit card charges, which we do pay off each month.
Commentary
Cash Savings, Midterm Goal Done. We have successfully reached our mid-term goal of $100,000 to put towards a house downpayment. This goal was set initially on April 2, 2005 – right here on this blog, with a deadline of mid-2007. Since then, I quit my 9-5 job, went back to school, changed fields, and now work both on my own independent ventures and a salaried "W-2" job. That transition set us back, but we finally got there, just 6 months late. 🙂
Of course, now we have to set another mid-term goal. For now, I think a proper goal would be probably to keep accumulating more cash, as if we do have to buy a house there are tons of other costs like closing costs, mortgage points, moving costs, initial home repairs, and so on to worry about. Not to mention also keeping an emergency fund, which is pretty critical once you have a mortgage to worry about.
Retirement and Brokerage accounts. Our investments overall have dropped about 2-3% since last month. We have again juiced up our retirement contributions this month, because unlike IRAs, the 401k contributions for 2007 have be in by the end of the year to count under the 2007 annual contribution limits. Thanksgiving managed to sidetrack me from my asset allocation series. It must be done by 2008!
You can see our previous net worth updates here.