Now how about a snapshot of our investments, as of the end of the day 12/15. Remarkably, our investments have increased $4,911 (7.3%) since my last update in October. Another example of how I can't predict the stock market. We're already done contributing to our Roth IRAs and 401ks this year, so we haven't made any new deposits. Everything has been going into the house down payment fund.
I did realize that I'm not including my Bridgeway investments in my net worth calculations. This is because Bridgeway does not work with Yodlee, and I never remember to log into their website. Oops!
Retirement Portfolio
Fund
$
%
FSTMX – Fidelity Total Stock Market Index Fund
$11,058
15%
VIVAX – Vanguard [Large-Cap] Value Index
$13,775
20%
VISVX – V. Small-Cap Value Index
$13,748
19%
VGSIX – V. REIT Index
$8,813
12%
VTRIX – V. International Value
$7,821
11%
VEIEX – V. Emerging Markets Stock Index
$7,500
10%
VFICX – V. Int-Term Investment-Grade Bond
$7,596
10%
BRSIX – Bridgeway Ultra-Small Market
$2,056
3%
Cash – Unreinvested Dividends
–
–
Total
$72,367
October and November Fund Transactions
none
Current Asset Allocation per Morningstar X-Ray: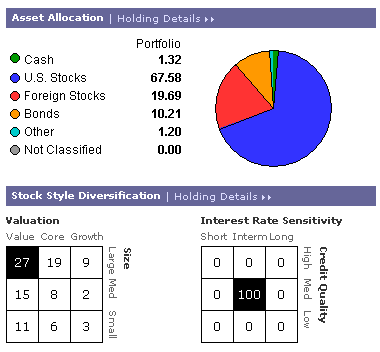 Current overall annual expense ratio: 0.26%
Thoughts
It's been almost 8 months since I first set up this slice-and-dice portfolio back in May. During that time I haven't really tinkered with it much at all, but I have constantly been thinking of changing my asset allocations a bit to add more international stocks. Although I think many domestic stocks also provide international exposure, 20% definitely feels on the low side.