You may have heard the term "three-legged stool", taken from the idea that a stool needs three legs to maintain balance. (Photographers use tripods, no duopods or quadrapods. Even a four-legged chair will likely wobble.)
Old Three-Legged Stool of Retirement
Traditionally, the components of the three-legged stool of retirement have been presented as Social Security benefits, Pensions, and Personal Savings (401k, IRA, and other assets).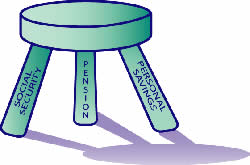 image via
Michigan.gov
This is partially supported by data from the Social Security Administration: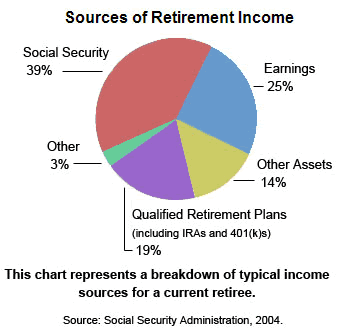 image via Pbs.org
The Qualified Retirement Plans slice combines pensions, 401ks, and IRAs together, making it hard to see the breakdown. The Other Assets include income from other investments like capital gains or dividends from taxable accounts and real estate. We observe that a quarter of all income in retirement is still from working for a paycheck.
Shaping Your Own Retirement Legs
These are just averages, and each of us will have their own path to retirement. If you're planning on retiring early, you won't have Social Security yet. For people born after 1960, the full retirement age for benefits is already 67, and expect it to rise even further the younger you are. I think some form of SS will still be around when I'm 70, but who knows.
1. Flexible, reliable, part-time income
We already saw that lots of people over 65 still work. Even though I want financial independence early, I've also come to realize that I'll never stop working. Ask yourself what are you really going to do in retirement? In addition, I think it would be stressful to stare at a big pile of cash and think to myself – "Crap, I hope this lasts for 30+ years!" Maintaining a part-time job and the related skills would help my cashflow, and also ensure that I could return to the workforce if disaster strikes.
I would want a part-time job that could provide some socialization and a sense of improving your community or helping others. Most of my imagined jobs involve teaching, coaching, sporadic technical consulting, or something tourism-related. It can't be 9-5, and I'd want to be able to take months off at a time. This won't be easy to find, so I need to start developing more "fun" skills as well as personal relationships now.
2. Personal Savings: Accumulate 30 times annual (non-housing) expenses
Without a pension or Social Security, you'll need to live off your own savings. If you invest in a balanced portfolio of 60% stocks and 40% bonds, studies have estimated that you can have a "safe withdrawal rates" of about 4% per year. By being a bit more conservative than that, this means accumulating 30 times your annual expenses.
For example, if your annual expenses are $30,000, then you need to save $900,000. This is a very general rule of thumb. Taxes are tricky, but if your income is only $30,000 per year, you won't be paying very much income tax. Check out the historical effective tax rate over a past 25 year timespan: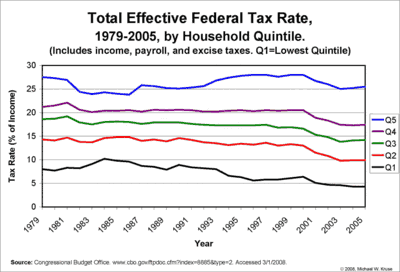 image via
krusekronicle.typepad.com
For reference in 1995, to be in the bottom 50% (safely in Q1/Q2) your adjusted gross income had to be under $31,000. And this even includes payroll taxes of about 9%, which you won't have to pay on investment income. The result: very low taxes (possibly under 5%) if you keep your expenses down! Which brings me to…
3. A Paid Off House
I don't think everyone needs to own a home. However, I happen to enjoy many of the intangibles of owning a home, I love my house and neighborhood, and plan on staying here a while. The cost of this leg can vary widely, from a $1,900 house in Detroit to… where I live, so choose where you want to live carefully. 😉
Financially, owning a home protects you from future inflation and rising rents. You are still subject to property taxes and maintenance costs.
In addition, not having to pay rent means you need less income from savings, reducing your needed nest egg in #2 above. You also pay less taxes. Withdrawing additional money from an IRA, for example, will mean subjecting them to your marginal tax rate, which could be 25% or higher. So to pay $750 in rent, you'd have to withdraw $1,000. Not very efficient.
So there, you have it, my three-legged stool. Yours may be very different – you may like renting, have a pension, own investment property, or have some other sources of income. I still worry about health insurance, but I'm still hopeful that some positive health care reform will occur that will create affordable health insurance for individuals under 65 not covered by an employer group plan.
* You can read more about the last two legs in my related post A Quick & Dirty Plan To Reach Financial Freedom.