What happens when you finally want to live off of your portfolio? Most withdrawal methods call for a combination of spending dividends and selling shares to cover the rest. But what if you wanted to live only off of dividends from your stocks and the interest from bonds? I was curious to see how this would have worked out historically.
Let's say you had $100,000 invested in a mutual fund, and you had to live off the dividend income produced from those shares without any additional buying or selling. I found historical price data and dividend distributions for select funds from Yahoo Finance that went back to 1987-1990, and added up the trailing 12 months of dividends to see how much money they would have generated over a year's time.
The Vanguard Wellesley Income Fund (VWINX) is a low-cost, actively-managed fund which has been around since 1970. It is composed of approximately 35% dividend-oriented stocks and 65% bonds (mostly corporate for higher yields). This conservative allocation is designed to create a steady income stream with less focus on capital appreciation. Let's see how $100,000 invested in 1988 would have done in terms of income: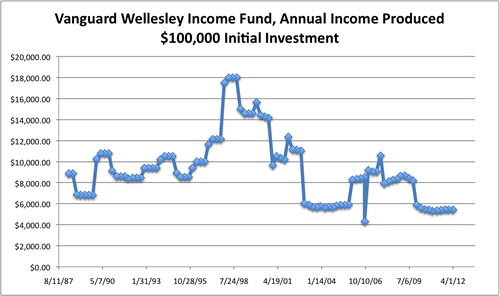 In 1988, interest rates were relatively high and $100,000 of Wellesley shares would have created nearly $9,000 of annual income. In 2012, that same set of shares would be worth $156,000 and your income would be about $5,400 annually. The income produced had some swings, but overall did not seem to track with inflation although the share price did better. According to the CPI, $100,000 in 1988 would buy as much stuff as $180,000 today.
The Vanguard 500 Index Fund was the first index fund available to the public and is now one of the largest funds in the world, passively following the S&P 500 index of large US companies since 1976 and thus always 100% stocks. Even though this is not a dividend-focused fund, it still does produce a regular stream of dividends from the companies it tracks: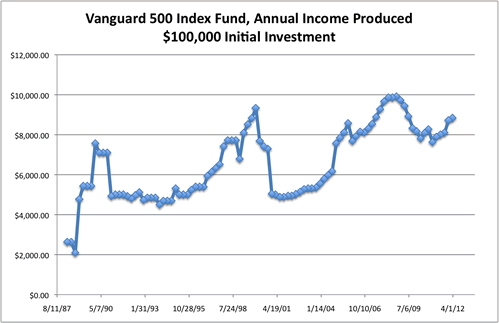 In contrast, $100,000 of the Vanguard 500 Fund would have only created about $2,700 of income in 1988, but that income has grown over the next 24 years to about $8,800 today in 2012. Also of high significance is that the value of your $100,000 worth of shares from 1988 would be worth around $500,000 today.
This is just a limited snapshot of two funds, but it would suggest that you can't just buy an income-oriented fund that has a large chunk of bonds and expect to sit back and spend whatever dividends are spit out. However, things would have turned out much better if one was reinvesting a big chunk of those Wellesley dividends when the overall yield was high. I can still envision a income-oriented portfolio, but I will have to set a reasonable withdrawal rate that isn't too high and have the discipline to plow the rest back into buying more shares.