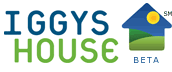 Although I feel like they are a bit late to the party, a new site called Iggys House will allow people to list their properties on the Multiple Listing Service (MLS) for free in certain states. Currently 20 states are offered, with more to scheduled to come later. After looking around online, it appears this usually costs around $300 from other For Sale By Owner websites. I wonder what the wholesale cost for a listing is…
According to their press release, 12% of home sales in 2006 were sold by their owners without any agent assistance (or I guess MLS listings?). About 7% hired a 'discount listing agent' that performed few if any additional services beyond simply listing the home on the MLS.
How to they plan on making a profit? By using the publicity gained from this to promote their services as buyer's agents. They figure if you are a do-it-yourself seller, why not be a do-it-yourself buyer? Their sister company, BuySide Realty, provides homebuyers 75% of the commission it receives as the buyer's agent. They claim to be the largest online buyer's agent company, with buyers earning an average rebate of more than $11,000.
I've never heard of an online buyer's agent before. As a potential buyer, I'm very intrigued. (I guess their tactic worked!) Back of the envelope calculation: $500,000 home x 3% buyer's agent commission x 75% = $11,250 rebate. Has anyone used one before?