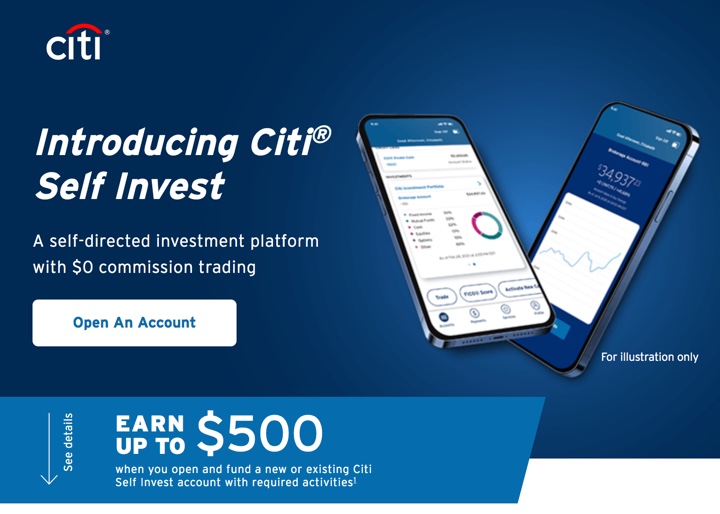 Citi has started their own self-directed brokerage arm called Citi Self Invest, joining $0 commission bank competitors like Chase, BofA, and Wells Fargo. They are also running a promotion for existing Citi banking or credit card customers to gather new deposits and ACAT transfers, with the current bonus worth up to $500, depending the value of assets that you move over:
$100 with $10,000-$49,999 in qualifying new money
$200 with $50,000–$199,999 in qualifying new money
$500 with $200,000+ in qualifying new money
Here are the steps:
Fund a new or existing Citi Self Invest Account between 3/1/22 and 10/31/22. You must also have an eligible individual Citibank checking or Savings account or an eligible Citi Card account with digital access through Citibank Online.
Fund the Citi Self Invest Account with a minimum of $10,000 in New-To-Citi funds within the Account Funding Period shown below (see below for New-To-Citi funds).
Maintain the New-To Citi funds in your Citi Self Invest account through the Maintain Funds deadline shown below based on month of account opening.
During the account opening process, allow for eDelivery of statements and confirmations,
Here is the deadline calendar:

Here's their terms on what "new to Citi" funds means:
New-to-Citi Funds are cash that must come from an external, non-Citi, source through a standard transfer method (e.g., a standard Transfer of Assets form, check, electronic funds transfer, ADM deposit). New-to-Citi Funds are: 1) funds deposited from external accounts or payees other than Citibank, N.A. and its affiliates and 2) must be deposited using domestic ACH transfer, Direct Deposit, checks drawn on banks other than Citibank, N.A. wire transfer, trustee to trustee transfer, or ACAT securities transfers.
Update: A rep for Citi reached out to me to say:
To clarify, the value of marketable securities like stocks and ETFS that are transferred via ACAT are included in the definition of "new to Citi funds" and are eligible for the bonus.
This is good news and makes it easier to satisfy the higher tier requirements if you already have a portfolio of ETFs or individuals stocks to move over.
Even if you move over cash, according to the calendar, your minimum holding period is as little as a month. For example, open in August, fund by 9/30, and hold until 10/31 to qualify. The $100 bonus on $10,000 is earning 1% in a month, or the equivalent of 12% APY when annualized. Unfortunately, you have to wait until 1/31/23 to get the bonus, but at least this is a no fee, no minimum balance, no commission brokerage account.
If you keep your cash in there for longer than the minimum of one month, you should also take into account the potential lost interest if you are only using their default cash sweep account. You might consider investing your funds into ultra-short bond ETFs like MINT or Treasury Bill ETFs like GBIL (still possible to lose value). I'm not sure if Citi Self Invest will let you buy Treasury bills directly.
Citi also has an alternative bonus for their Citi Personal Wealth Management account, with better bonus ratios for new deposits of $50,000 and up, and total bonuses worth up to $5,000. However, I'm not sure about the fee structure for the Personal Wealth Management accounts which involve a "dedicated Citi Personal Wealth Management Financial Advisor who can provide personalized planning and investment guidance" with a vague "pricing varies based on investments selected". Seems like it might be more work if you don't want their financial advice, but might be worth a phone call to the number in the link if you have $50,000+ as the minimum holding period is still one month.