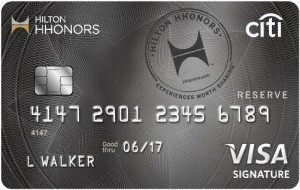 Update – This offer is now EXPIRED
The premium co-branded Citi Hilton Hotels card, from our partner Citi, is the Citi® Hilton HHonors™ Reserve Card. The sign-up bonus includes certificates good for 2 Free Weekend Nights, with "weekend night" meaning a Friday, Saturday, or Sunday night after spending $2,500 in purchases within 4 months of account opening*. If you like staying at posh hotels, you can get $500+ value out of each certificate and easily $500 of value out of them together. Card feature summary:
Earn 2 weekend night certificates good at select hotels and resorts within the Hilton Portfolio after you make $2,500 in purchases within 4 months of account opening*
Earn 10 Hilton HHonors Bonus Points per $1 spent on hotel stays within the Hilton Portfolio*
Earn 5 Hilton HHonors Bonus Points per $1 spent on airline and car rental purchases*
Earn 3 Hilton HHonors Bonus Points per $1 spent on all other eligible purchases*
Enjoy the benefits of HHonors Gold status as long as you are a cardmember*
No foreign transaction fees on purchases*
Travel with ease and enjoy global acceptance with your Citi chip credit card
The two free weekend night certificates have no category restrictions, but do have the following exclusions (often these are condo-hotels). Certificates are valid for 12 months after issuance. Must be used on "standard" rooms (no upgraded suites, etc). Room taxes are included with the certificates. Booking the same rooms using rewards points would cost 50,000-70,000 HHonors points per night. Possible choices include: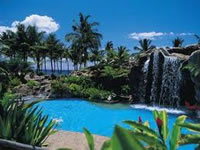 Grand Wailea Maui (Waldorf Astoria)
Waldorf Astoria Rome Cavalieri
Conrad Maldives
Conrad New York
Hilton Bora Bora Nui
Update: I applied myself, satisfied the requirement, received my two rewards certificates, and redeemed for $1,000+ worth of rooms in Hawaii. I applied for this card (Day 0) and made my first purchase Day 7, first statement about a month later, was charged the $95 annual fee, satisfied the spending hurdle, second statement closed, and I was issued the two weekend night certificates via e-mail after that (Day 67). Here is a screenshot: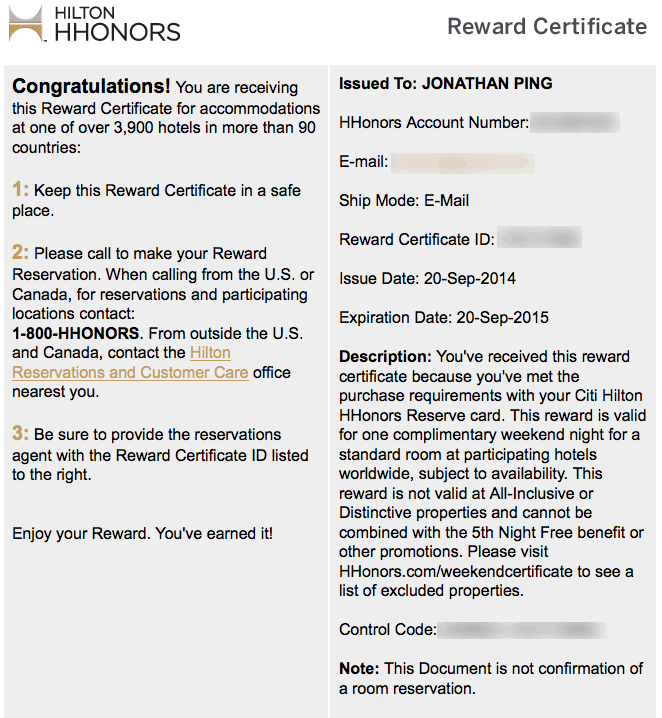 According to commenter TJ below who satisfied the spending requirements in the first billing cycle, s/he got the certificates two weeks after the close of the 1st statement. My guess is that they just want to make sure you pay the annual fee. Also, good tip to check your spam folder for the e-mailed certificates!
I called in to book the nights I wanted at my resort of choice – the Grand Wailea (Waldorf Astoria) in Maui. (I've never stayed there before, but it looks pretty awesome.) Keep in mind that although there are no category restrictions (it doesn't matter how expensive the hotel is on average), you can only book a "standard room" which I believe is their cheapest tier of rooms. So if you want a busy weekend that is coming up soon and those cheaper rooms are sold out, you may not get it. However, I was able to get two consecutive weekend nights. I am also able to cancel without any penalty or fees up until 14 days before the booking.
If I was booking with cash on the exact same dates and exact same room, it would have cost me $1,109.25. Here's proof via screenshot from the booking website: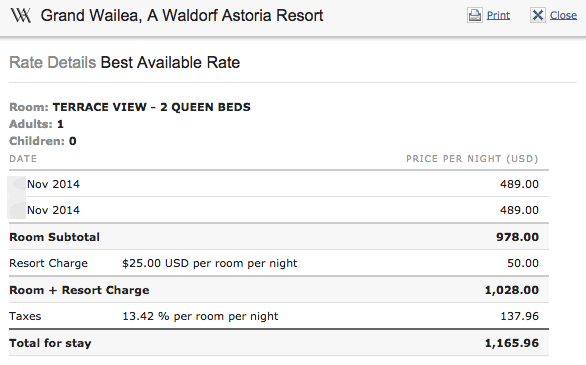 If I was to have used points, it would have taken 70,000 per night for a total of 140,000 Hilton Honor points. Note that I took out the resort fees, which are reportedly not waived when booking with certificate or points redemptions (any taxes on the room rate are covered). Resort fees are $25 per night ($28.35 with taxes). You actually get the following stuff too: "Guest internet access; beach umbrellas for use on Wailea Beach; admission to twice daily SCUBA clinics; free bike rental".
Recap
In the end, this is a great way for casual travelers to stay two nights at a really fancy hotel where you can't imagine paying over $300 a night. We applied and got ourselves two nights at the Grand Wailea in Maui. However, you should keep in mind that the reward certificates are only for Fri/Sat/Sun nights and are based on room availability so some flexibility in either hotel choice or dates is recommended. On an ongoing basis, the card is ideal for Hilton hotel regulars – You get 10x points on Hilton purchases and free Gold elite status (perks include late checkout, free Wi-Fi, and a free breakfast at many hotels). If you spend $10,000 in a year, you get another free weekend night certificate, which you can weigh against the $95 annual fee.
"Disclaimer: This content is not provided or commissioned by the issuer. Opinions expressed here are author's alone, not those of the issuer, and have not been reviewed, approved or otherwise endorsed by the issuer. This site may be compensated through the issuer's Affiliate Program."