I don't know what if anything this chart tells me, but for some reason I was compelled to post it here for posterity. Below is the S&P 500 index priced in terms of ounces of gold, from 1971-2010. Via BusinessInsider.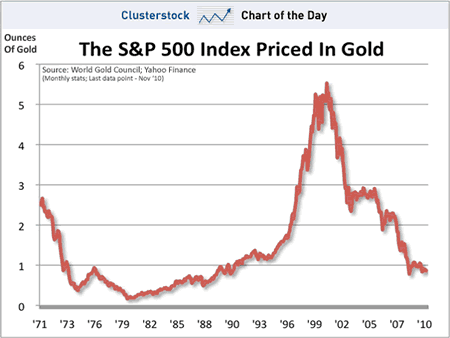 It has become popular to refer to gold as "real money" these days (and thus mock paper currencies like the dollar and euro). I don't know about that. As a non-correlated asset to own as a certain percentage of your portfolio (and rebalance regularly), then maybe. But as a way of pricing things, gold values are way too volatile, and while the price of gold does relate to the falling dollar, it also relates strongly with speculation and fear.
I also feel that the newly found ease of buying gold in a brokerage account via an ETF like GLD has helped the price skyrocket. Click, click, and now you own gold. If you haven't heard, gold ATM machines are coming here as well. Hmm.
In any case, if you do think of gold as money, then according to this chart the S&P 500 is at a reasonable historical price.