When I think about it, I am impressed with how different 2017 feels compared to when I started seriously learning about investing in 2003. Instead of only reading about it in few books mostly read by finance nerds, nowadays nearly every robo-advisor out there uses a globally-diversified mix of low-cost ETFs to build their portfolios. What used to be a relatively quiet alternative to buying 4-star active funds is now becoming the default choice.
We've seen from the Callan Investment Returns Table that the best-performing asset classes constantly change from year to year. In a industry magazine called Investments & Wealth Monitor, there was an article titled Why Global Asset Allocation Still Makes Sense by Anthony Davidow. (Found via AllAboutAlpha.)
Here's an illustration of how a globally-diversified portfolio has outperformed. Below is a graphic from the article comparing a 100% S&P 500 portfolio, and 60/40 S&P 500/US Agg Bond portfolio, and a "globally diversified portfolio" using historical data from January 1, 2001 to December 31, 2016. Index values are used directly as opposed to actual ETFs or funds. The portfolio are rebalanced annually back to target asset allocation.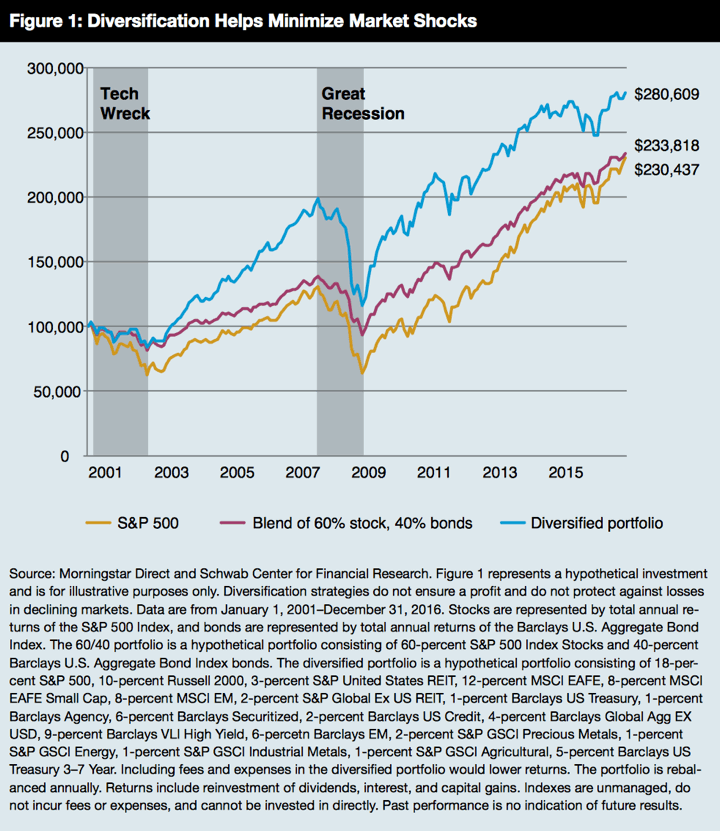 Their "diversified portfolio" had a rather finely-diced list of asset class ingredients:
18% S&P 500 (US Large-Cap)
10% Russell 2000 (US Small-Cap)
3% S&P US REIT
12% MSCI EAFE (International Developed)
8% MSCI EAFE Small Cap
8% MSCI Emerging Markets
2% S&P Global Ex US REIT
1% Barclays US Treasury
1% Barclays Agency
6% Barclays Securitized
2% Barclays US Credit
4% Barclays Global Agg EX USD
9% Barclays VLI High Yield
6% Barclays EM
2% S&P GSCI Precious Metals
1% S&P GSCI Energy
1% S&P GSCI Industrial Metals
1% S&P GSCI Agricultural
5% Barclays US Treasury 3–7 Year
I do wish this portfolio was a bit more simple and easy to replicate. However, if you take a step back, you could simplify this asset allocation into the following:
56% Global Stocks (50% US/50% Non-US)
5% Global REIT (60% US/40% Non-US)
34% Global Bonds (70% US/30% Non-US)
5% Commodities
Now, we can't necessarily expect a global portfolio to always outperform. One thing is usually doing better than another thing you own. Most recently, US stocks have outperformed International stocks quite significantly. Here's an explanation from the article about the "free lunch" of diversification:
Diversification strategies do not guarantee capture of profits or protection against losses in any market environment, but they have been shown over time to provide a smoother ride. Rather than bearing the brunt of the 2000 Tech Wreck and the 2008 Great Recession, the diversified portfolio provided cushioning under the large market drop and was able recoup losses and grow over time.