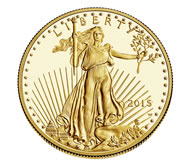 BullionDirect.com sold gold and silver bullion and even offered to store it in a vault for you for free. How nice of them. Unfortunately, they lied. From a Austin American-Statesman article with lots of customer interviews:
By the time auditors and lawyers got access to Bullion Direct's 14th-floor offices six weeks ago, there were only a handful of gold and silver coins in an office safe. A second vault it had recently rented held only slightly more.

An estimated $30 million in cash, metal bullion and valuable coins, meanwhile, had vanished.
Here's another snippet from a CoinWeek article (more detailed updates here):
Bullion Direct filed a declaration that stated that "when a customer placed an order, the precious metal was not actually purchased unless the customer agreed to take actual delivery of the product." In other words, they never bought the metal customers purchased if it was to be stored.
This story is not about whether or not to buy gold. The lesson is that if you buy physical gold from a dealer and they either never deliver it to you or they say they'll store it for you but the vault is really empty and say "oops we're bankrupt!"… there is no government insurance mechanism that guarantees your assets. They can say they have "layers of insurance" and "regular, independent audits", but they could also be lying to your face. If you have your gold stored somewhere, do you know the actual name of the insurance company they are using, and have you verified with that company about what exactly that policy covers?
From what I can tell, you could just replace "gold storage" with "pink teddy bear storage" to get an approximate idea of your level of protection. You can sue for your lost teddy bears, but if the company is broke and criminally stole your money, you may not get much if anything back even after liquidating any remaining assets.
This is very different from keeping assets under set limits at an FDIC-insured bank or holding regulated securities at an SIPC-insured brokerage firm. If you hold cash at a FDIC-insured bank and it fails, you'll get your money back (subject to limits of $250k per account designation). If you hold Vanguard mutual funds in a TD Ameritrade account, those shares are also structured as to be protected if either Vanguard or TD Ameritrade has financial problems. (To be clear, your number of shares is protected up to limits, but the market value of those shares is not guaranteed.)
If I was to buy gold, so far my plan would be to buy 1 oz. American Eagle coins direct from a US Mint Authorized Purchaser, and then test them again myself with this Fisch gold coin tester. There is a premium over spot price for coins, but it would improve liquidity. Perhaps it is even worth paying the 3% markup for paying with credit card, especially if you can earn at least 2% in cash back or points, and then chalk up the net 1% markup as a form of purchase protection. Of course, storing it yourself has its own set of potential issues.