File-sharing and online collaboration site Box.net also has a handy feature that other similar services don't have – 100 pages of free outgoing faxes per month via eFax. Their free Lite plan includes 1 GB of online storage with a per-file size limit of 25 MB. Simply upload the file you wish to fax (PDF files work well), right-click, and select "Send with eFax." If you don't see that option, click on "Add Applications" and find eFax.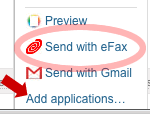 There are no ads, and if you need a cover sheet you'll have to include that in the .PDF file you upload. The fax is sent immediately after you initiate it, and it was received by my fax machine without errors and with good print quality (for a fax). You do get a confirmation e-mail from eFax that it was sent successfully. Not bad at all for free!
As a reminder, you can also sign up for a free fax number to receive incoming faxes at eFax or K7.net and have it sent to your e-mail. Together, I would imagine these services can cover most casual fax usage (assuming you have a scanner to convert things to PDF format).