I went ahead today and bought some more of the 12-month CD at 5% APY from Washington Mutual/Chase. Here's why:
Reason #1: Chase agreed to honor WaMu CD rates
From the official FDIC WaMu takeover page:
6. Will I continue to earn interest at the same rate?
JPMorgan Chase accepted Washington Mutual's interest bearing accounts including CD's at the contract rate; therefore, they are not waiving early withdrawal penalties.
Even though there was speculation that Chase would only pay interest up to the failure date as was the minimum requirement, Chase went as far as to not even allow early withdrawals without penalty. They have committed to honoring these rates, which also worked out great for those that jumped on it last month.
Reason #2: They are still offering the 5% APY 12-month CD
A week later, the same high rate is still on their website: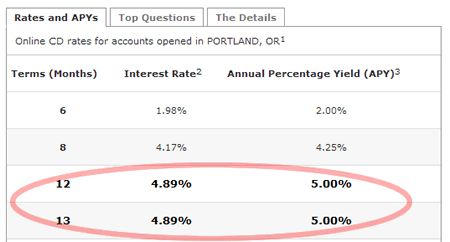 This can't have been an accident. 13-month CD is available too.
Reason #3: It's FDIC-insured, now with a more stable bank
For those that worried about WaMu service interruption or lost liquidity (which never happened) , now it should be even more stable with Chase Bank.
Reason #4: It's still a top rate, and it might change at any time.
Maybe there is some sort of behind-the-scenes rate freeze agreement that we don't know about. Their popular Online Savings + Free Checking combo is still paying 4.00% APY on savings and the checking perks haven't changed (WaMu review). Savings accounts at any bank are always subject to change, so there is nothing I can do about that. But I can sure lock in this rate now and keep my system going as long as possible: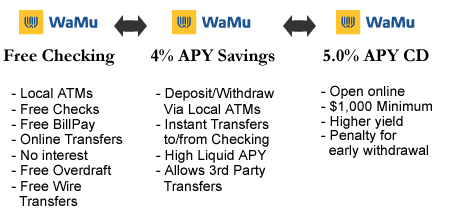 Reason #5: Fed may drop interest rates soon
Bailout plan or not, this economy ain't doing so well. Although I don't make big bets on such forecasts, there is a good possibility that Fed will lower interest rates by the end of the year (see USA Today, WSJ).
If your funding source is not WaMu, they let you fund electronically with another bank's routing and account number. You have to remember to verify the test deposits, though.