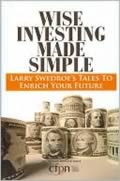 I've been getting back into reading financial books, but am really behind in writing reviews for them. One book I finished last month was Wise Investing Made Simple by Larry Swedroe, which promises "Tales to Enrich Your Future".
The key word is "tales", because this is not a book with complex mathematical formulas or lots of charts and statistics. (Although I love charts…) It contains 27 short stories using simple concepts like sports analogies to explain the benefits of a long-term, passive approach to investing. Each story includes a quick "Moral of the Tale" summary.
I've already written about my favorite tale in Why Sports Betting and Stock Picking Are Similar. But here is my paraphrasing of another good chapter:
The $20 Bill
Here's is a common story used to poke fun at the Efficient Market Hypothesis. An economist who believes in efficient markets walks down the street with a friend. The friend says "Look, there's a $20 bill on the ground!" The economist says "No way. If there was a $20 bill on the ground somebody would have already picked it up", and continues to walk away. This supposedly counters the idea that in a truly efficient market it would be impossible to find an under-priced stock (similar to a $20 bill priced at $10 or even free).
However, this argument is not really correct. What the story eventually explains is that while many passive investors believe that the occasional $20 bill on the ground may exist, spending your time looking for them may not be the most effective way to make money. The same could be said about stock-picking or market timing. Persistence in beating the market (finding $20 bills) beyond the randomly expected is very difficult to find.
Summary
For the investor that is already committed to passive investing and fully understands the underlying reasons why they believe that is the best strategy for them, this book probably won't bring that much new to the table. It won't help you decide whether to hold 20% International or 45% International stocks, or if you should include exposure to commodities or precious metals. If you are a full-time trader who is adamantly against passive investing, this book probably won't contain enough hard facts to sway you either.
Instead, I think the sweet spot for this book are those investors that have been told "index funds are great" and may even invest in them but don't really know why they are so great and don't have the interest level to read some dry investing book about correlations and standard deviations. The problem with this level of understanding is that when things get tough it can be easy to bail out if you don't really know why you're doing something. This book breaks things down into simple, bite-size pieces without being patronizing.
On a personal level, this book might not be the very first book on saving money I'd give someone, or my favorite book about investing, but I am going to keep it in my library because it provided some different ways to explain to others (and myself at times) why I invest the way I do.
Overall Rating:

(ratings explained)