Jack Bogle is best known as the founder of Vanguard index funds, but he also dispenses great common sense advice about investing. I've written previously about his long-term stock return methodology including this prediction for stock returns for 2010-2020.
He also has a simple method to predicting future long-term bond returns, which is by simply taking the current bond yield. For example, the current yield of 10-year Treasuries is 2.7%, so roughly 3% is likely the future 10-year return.
This is explained further in this recent WSJ article (via Abnormal Returns). This chart shows it best: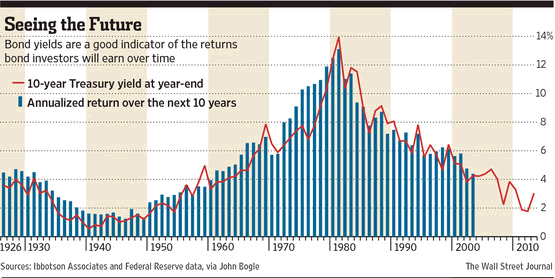 Since 1926, he notes, the entry yield on the 10-year Treasury explains 92% of the annualized return an investor would have earned over the subsequent decade had he or she held the bond to maturity and reinvested the coupon payments at prevailing rates.

Similarly, the entry yield on the Barclays U.S. Aggregate Bond index (of investment-grade U.S. bonds) explains 90% of its 10-year returns for the years 1976 to 2012, says Tony Crescenzi, a portfolio manager and strategist at Pacific Investment Management Co.
The Vanguard Total Bond Market ETF (BND) which tracks the Barclays U.S. Aggregate Bond index currently has an SEC yield of 2.2%, which doesn't seem like a very exciting number to look forward to. While this shows that our expectations should be very modest, it's still important to remember that we hold bonds as a counterbalance to stock price volatility. As long as we hold them together, the overall picture is much more tolerable.