One of the eternal questions in investing is whether performance results are due to skill or luck. We'll probably never get a universally-accepted answer, but Michael Mauboussin (chief investment strategist at Legg Mason Capital Management) explores the subject in his new book The Success Equation: Untangling Skill and Luck in Business, Sports, and Investing.
I haven't read the book, but in a WSJ interview the author shares a graphic illustrating where he views investing on the skill-to-luck continuum. At the extremes are the pure luck of roulette and the overwhelming dominance of skill in chess.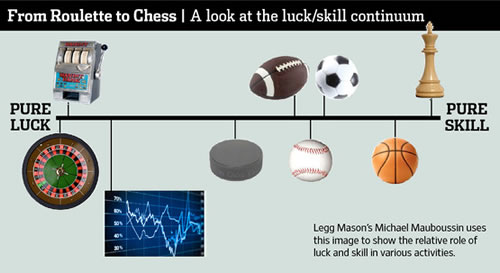 Mauboussin is quick to explain that the luck factor comes into play because making money is a hugely powerful motivator and thus draws in the smartest people in the world. This leads to competition at such a high level that differences in results are mostly luck, especially in the short-term.
This reminds me of another famous skill vs. luck argument by Warren Buffett called The Superinvestors of Graham-and-Doddsville (Wikipedia). You can feel his annoyance at the academics suggesting that his mentors were simply statistical anomalies.
For the record, I don't believe in the academic definition of the efficient market hypothesis either. But as the graphic above suggests, market efficiency is not a yes/no situation but a matter of degree. Even Buffett has repeatedly stated that most investors would be better off in low cost index funds, and even wagered $1 million that the Vanguard S&P 500 index fund would outperform a basket of hedge funds over a decade. The bet started in 2008, and as of March 2012 the index fund is ahead. Of course, no matter who wins, was it skill… or luck?