Washington Mutual quietly rolled out a new high-yield savings account bundled together with the WaMu Free Checking account. When you click on 'Start Now' you'll get both applications at once. You should then see this: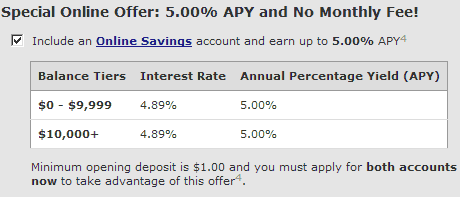 It may not be the very tip-top highest rate, but the convenience may be worth it for current WaMu customers. If you already have an account with them, you definitely won't want to miss this. You must apply online for both the checking and savings to get the 3.30% savings account. Walk into a branch and they'll feign ignorance (they are not allowed to tell you about it). But, since the checking is free with no inactivity fees or minimums, there is no harm in getting another one. You can transfer instantly back and forth between them and maximize your interest. You even get one free overdraft a year with WaMu in case something goes wrong.
Finally, if you already do online banking with WaMu, you can do it all in 5 minutes! I just did it myself.
Here's the process:
1. Go to the online application page.
2. Click on 'Start Now' and apply for a Free Checking account.
3. Apply for both another Free Checking and the 3.30% Savings (you should see both). Where they ask you 'Do you have an online ID?' click Yes and type in your existing username and password.
4. Fill in the usual personal information and answer some identity verification questions. Since you logged in first, most of it should be filled out already for you, saving time.
5. Here's the cool part, you can fund it instantly with your existing WaMu accounts! Here's a screenshot: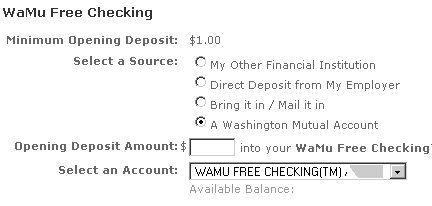 I just transferred $1 from my existing checking account into the new one.
6. You should get this message:
Your WaMu Free Checking and Statement Savings accounts have been created and will be available online in the next 10-15 minutes. Please log in to www.wamu.com at that time.
Print out the sheet with the new account numbers for your records.
7. Wait a few minutes, and log back in. Voila! 🙂 You should see your new 2nd checking account and new savings account. To verify that you are getting the higher rate, on your left menu bar go to View my accounts > Account details. You should see the 3.30% rate.
8. If you have money sitting in other WaMu accounts that wouldn't mind some extra interest boost, start moving money there! It's instant. My old statement savings account only paid 0.25% – let's just say it's empty now 🙂
There you go. Nothing to sign, nothing to mail in, no deposits to wait for. Money that was previously earning essentially nothing is now earning a lot more. This could also work well with 0% balance transfers if you don't like dealing with other online-only savings accounts.