If you have your cash spread out across several bank accounts, whether it's to help with chasing higher interest rates, paranoia, or saving for different goals, it can become quite a hassle to transfer money between accounts. I get asked all the time about how I juggle them all.
Part of my solution is to utilize the E-Trade Complete Savings account to connect them all together. This is basically E-Trade's version of the online savings account which I've had for years. From my experience, the interest rate goes up and down (it is currently a so-so 1.20% APY), but it works very well for me as my bank "transfer hub".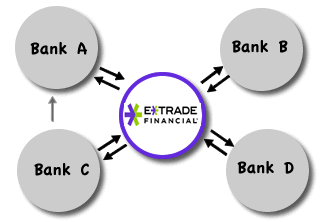 What are some important things to look for in such an account?
Basics and Cost
To start off, you'll want a bank that offers a very low minimum balance and no monthly fees. A decent interest rate would be good, but a top interest rate isn't critical since this isn't where you'll be keeping the bulk of your funds. You might want to keep a little bit of cash here in case you need to transfer some out quickly, and also to keep your bank from closing out an empty account.
Transfer System
Just about all banks allow ACH (automated clearing house) transactions, but you have one party initiate such transactions, and many "old-school" banks don't do this. Accordingly, you'll want your hub account to have the ability to "push" or "pull" funds in and out of multiple external bank accounts, with no transfer fee. Some banks only let you link one or two accounts, while others charge you to initiate transfers. For example, Bank of America allows you to move money to BofA for free, but charges if you move money from BofA using their system.
The E-Trade Complete Savings account has no minimum balance and no monthly fees, you can link an unlimited number of accounts, and there are no transfer fees.
Transfer Speed and Interest Crediting Policy
Of course, you'll want fast transfer times. Some banks take 3 business days to move money in either direction, with your money in limbo and not earning interest anywhere. However, E-Trade is much faster, with transfer times of only 1 business day (which is how long it should take…). Also, if you schedule a funds transfer from an external account to E-Trade before the end of the business day at 4pm EST, they will actually credit your account the same day, even before they withdraw the money (although to prevent fraud you can only withdraw after 3 business days). However, you will start to earn interest starting that day, even before the money actually get debited from your source account!
Here is a sample screenshot: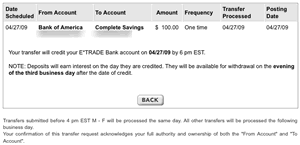 In fact, if you initiate a transfer on Friday, you can earn interest at both accounts over the weekend. Here is a sample timeline:
Friday: You schedule a transfer of $1,000 from Bank A to E-Trade. You start earning interest at E-Trade on Friday. Nothing has happened at Bank A.
Monday: $1,000 is withdrawn from Bank A.
Thursday: $1,000 is now available to withdraw from E-Trade. You schedule a transfer to Bank B. $1,000 is debited from your account at E-Trade.
Friday: $1,000 arrives at Bank B.
Yes, it will take you a week to move the money, but you'll be earning interest the entire time due to the double-interest over the weekend. Compare this to other accounts where the money is in limbo for 3-5 total days (3 business day + weekends/holidays) and you're earning zero interest during that time.
For these reasons, I think the E-Trade Complete Savings account is very useful for the ability to connect any two bank accounts and move money relatively quickly with minimal interest loss. If you already trade stocks with them, it's basically a no-brainer given the horrible yields on money market funds right now.
I have also heard good things about the transfer speed at GMAC Bank, but I don't know if it's quite this good as I don't have any personal experience with them. I'm also concerned about how GMAC Bank will be around… if they get bought or sold to another bank, the website may disappear as well. I'm already going to miss my WaMu interface when I get forced over to Chase next month.