Update: This deal appears to be expired.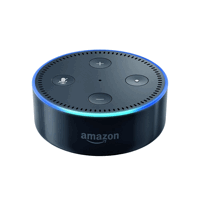 Amazon has a great deal today only (11/19) if you're interested in a free Echo Dot. Sign up for a discounted membership at $6.95/month, and you get can get a free Echo Dot ($39.99 value). Here's how:
Click here to see offer and buy the discounted Audible membership. Look for the green banner as shown below. After clicking "Get this deal", you should also see "Receive a $39.99 credit for an Echo Dot (2nd gen) after checkout."
After buying the membership, add an Echo Dot (2nd Gen) to your cart and checkout. You should see the $39.99 discount, making it free. If you don't want it linked automatically to your account, set it as a gift. You should get an e-mail immediately that says it might take up to 48 hours, but you should be able to buy it right away.
You can still cancel your Audible membership at any time (easily online and with no hassles), even after a single month. You can even buy your audiobook immediately and cancel right after.

I was a former Audible member, but not a current one, and was able to get this deal. An audiobook that I'll actually listen to (and get to keep forever) and a Echo Dot for seven bucks? Good deal.
You can see the deal terms when you click here and scroll down and click on "Terms and Conditions Apply":
Offer available from November 19, 2018 6:00AM PT until November 19, 2018 at 11:59PM PT or while supplies last. To qualify for this offer, you must have an existing and active Amazon.com account (as evidenced by at least $1 in transactions in the 6 months prior to redemption of the offer). This offer is not available to existing Audible members. Offer applies only to an Audible monthly membership sold by audible.com. For the first 3 months of your Audible membership, you will be charged the discounted price of $6.95/mo. After the first 3 months, your Audible membership will continue at the then current full price (currently $14.95/mo.) until cancelled. Cancel anytime by visiting the Account Details page. After you sign up for your membership and your payment information is verified, you will receive a confirmation email and the Amazon.com account that you used to sign up for your membership will receive a $39.99 credit (within 48 hours after sign up) redeemable for an Echo Dot (2nd Generation) device.