If you like to keep up with my net worth updates, you'll know that I've been trying to estimate my home's value using four different internet valuation tools:
Cyberhomes.com
Coldwell Banker
Bank of America (older version)
It's finally been a year since I started using these tools, and I wanted to look back on how successful this experiment has been. Some give one numerical estimate and some give ranges. When I got a range of values, I simply used the midpoint. Here are the results over the past year: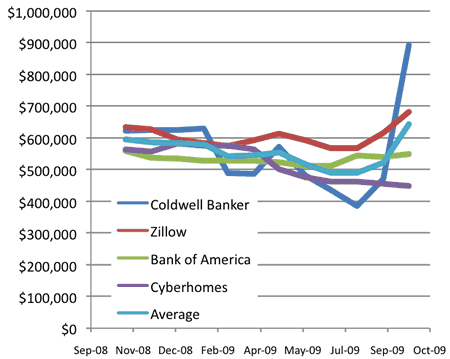 Accuracy. We all know the real value of a house is what someone is willing to pay for it. (Actually, it's what a bank is willing to lend that person…) But as a group, I would say these services can't possibly be accurate because they all seem to disagree all the time. In nearly every month, estimates would differ by $50,000 or more. Half are up over the past year, and the other half are down.
Even though they all seem to use similar housing information databases, all of them must interpret the data differently. Some may take into account the change in value of all houses in zip code, or the city in general. Or they may differ in what properties they consider to be comparable sales (by zip code, by distance, size, or age). How do you weigh different physical factors (i.e. number of bedrooms, bathrooms, and square footage)?
Volatility. Bank of America appears to have had the least volatility over the last year, while Coldwell Banker has the wildest swings. I believe the recent upswings are due to some more houses being sold in my area at the higher range recently, while for a time very few houses were being sold and those were at the low end. If so, it would follow that Coldwell Banker weighs recent sales more heavily.
Should I Keep Using These Tools?
Even though the house you live in might not be considered an investment per se, I still think one should track it's value. The fact is that $200,000 in home equity here could buy me an entire house elsewhere if I were to move. (And I know people who have done just that.) I have seen that home price trends can vary across different neighborhoods within the same area, so you can't just go by city-wide data.
However, due to the lack of reliable estimates from these internet valuation tools, I'm going to stop using them in my net worth updates. I initially tried to deal with the variations by taking the average of all four and also subtracting 5% to be conservative and 6% for real estate agent commissions, but the swings still dwarfed all my other accounts. I'm still undecided about what alternative to use.