Here's an article specifically designed to push people's buttons: Why Your Home Is Not the Investment You Think It Is from the Wall Street Journal. It questions the plan of many people to use their home as part of their retirement strategy, and points to economic studies that show that houses often (1) cost more than most people make when they sell and (2) rarely match the long-term returns of stocks or other investments.
Did you know:
If you bought a house in Los Angeles in 1990, just as the real-estate market turned downward, you would have had to wait a decade for your home's value to return to what you paid.
If you bought in Rochester, N.Y., in 1980, you would have seen only a mediocre 4% annual growth for the next 25 years.
If you bought in Dallas in 1986, as the oil boom went bust, your home wouldn't have appreciated at all before 1998.
Some other excepts:
When most homeowners figure their returns, they don't do much more than subtract the price they paid from the price they received. Then they come up with a really big return because they paid only a 10% or 20% down payment. So they figure they made a huge "profit."

But they didn't. That's because the costs of owning a home — buying it with a long-term mortgage and then paying taxes on it, insuring it, repairing it, renovating it — sap most of what most homeowners think they make in price appreciation.
I can agree with this. This overestimation of returns happens all the time in all forms of investing.
Boom market or bust, home buying has so many extra costs — from upfront "points" paid to a lender to title insurance and appraisal fees — that over the first five to seven years, a renter who invests the equivalent of a down payment in stocks could easily do better overall than a house buyer. Compounding that problem: Most homeowners move within seven years.

As the ownership timeline stretches out to 15, 20 or 30 years, however, the buyer will almost certainly do better than the renter, especially given the tax benefits of paying mortgage interest over traditional rent and the big rebate when the owner finally sells.
There is always a break-even point. Recently, it has been as little as one year, but now it may be 5 – 10 years. This will vary by location, as some areas are still going up, while other are well on their way down.
Whether you come out ahead depends on where and when you buy. Even cash buyers might be surprised to see that they can't be assured of making a profit.

"The Costs of Home Ownership" table is a simplified rundown on a typical single-family home — a house that was bought for $50,000 in 1977 — based on national appreciation rates as reported by the Office of Federal Housing Enterprise Oversight (OFHEO). Included are modest estimates of other home-owning costs (not adjusted for inflation). To keep things simple, there are no transaction costs, no additional borrowing to finance improvements and no refinancing costs, all of which would drive the expenses even higher. It's not a pretty picture.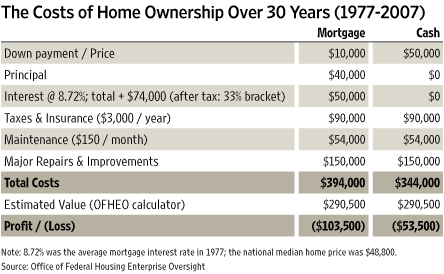 I'm sorry, but this analysis seems a bit biased. Let me count the ways:
The interest rate is at 8.72%. While it may have started out that high, there's no way they wouldn't have refinanced within those 30 years and significantly lower their rates.
$3,000 a year for taxes and insurance my be reasonable, but still feels on the high side for a house that went from $50k to $300k. That 6% to 1% annually, with an average of about 4% due to exponential growth. Maybe if they lived in Texas.
$150,000 for "major repairs" on top of $1,800 every year in "maintenance costs"? My parents have lived in their house for almost twenty years and have replaced their heater once. That's it. What costs $150k to fix on a $300k house?
While their point is made that you need to take in all housing costs, if you take out the $150,000 bombshell, both scenarios made a decent profit.
In the end, I think it's good that people take a critical look at some of their housing assumptions. Maybe they are a worse investment than some people think. As for me, my basic opinions remain the same:
Regarding buy-vs-rent, I think people should run several different possible scenarios and make a decision based on their specific geographic location and potential need to move. You may need to stay in the house for 5-10 years to making buying profitable. Most calculators rely on several hard-to-predict factors, including the annual appreciation of the property, the annual rising of rent, and the assumed return on the money that is not put towards a mortgage, i.e. when you "rent and invest the difference." Keep in mind that you'll need a 10+ year horizon to guarantee that you'll get 8% or whatever in stocks. If you'll need the money sooner, you should probably keep it in more conservative investments and lower your projections. Try a bunch of different combinations of numbers to see how they affect the results.
Finally, housing prices are not as efficient as stocks. It is quite possible to negotiate with buyers and be picky in this buyer's market. I don't have to pull the trigger unless I see both a house and a price that I like.