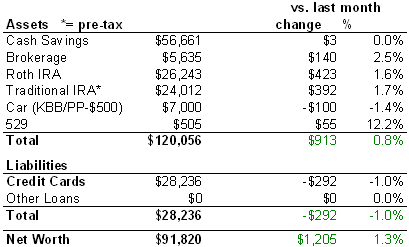 Intro
My large credit card debt is all at 0% APR interest, so don't be alarmed. Please see my posts on taking advantage of no fee 0% APR balance transfers for more information. In short, I'm borrowing the money for "free" and keeping it in safe investments while earning me interest. Some recent examples are my $9,000 from Citibank and $10,000 from Discover Card.
Thoughts
Most of the gain this month is from stock market gains in our retirement accounts. We spent about $1000 for the deposit for our international trip this summer, otherwise the gain would have been nicer. Travel is our passion and our chosen luxury, so I feel no guilt over spending that much money on that. There is no way I'm going to look back later in life and say "Dude, that trip exploring Asia was a mistake", unlike perhaps a luxury car or fancy widgets.
Looking at our goals, it just seems like time is just flying by. Soon we'll be moving again, hopefully for the last time ever! My short-term goals for this month are to improve my time management skills, which hopefully translate into more money-earning opportunities as well.