I've been trying to track our expenses better using Mint.com, which means combing through transactions and manually correcting many of the automatic categorizations. I think it's working, at least in that I hate doing it so much that didn't make a purchase today so I wouldn't have to categorize it later. 🙂
I found the home page chart greeting me today amusing: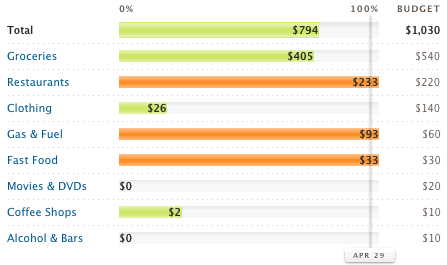 We did pretty good this month, but it would seem like all we do is eat and drive (and in the case of fast food, probably both at the same time). I notice that housing and utilities aren't included, but I'm not going to tweak the targets until I have a couple months of spending data first.