It's time for another bi-monthly update on my investment portfolio.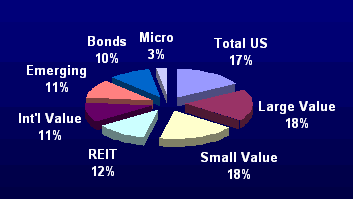 Retirement Portfolio
Fund
$
%
FSTMX – Fidelity Total Stock Market Index Fund
$12,599
17%
VIVAX – Vanguard [Large-Cap] Value Index
$14,082
18%
VISVX – V. Small-Cap Value Index
$14,146
18%
VGSIX – V. REIT Index
$9,229
12%
VTRIX – V. International Value
$8,294
11%
VEIEX – V. Emerging Markets Stock Index
$8,040
11%
VFICX – V. Int-Term Investment-Grade Bond
$7,726
10%
BRSIX – Bridgeway Ultra-Small Market
$2,086
3%
Cash
none
–
Total
$76,202
Fund Transactions Since Last Update
Bought $1,500 of FSTMX on 4/5/07 (36.773 shares)
Thoughts
Not much going on, I have been contributing a $500 a month to my Solo 401k while trying to build up my cash hoard for a house downpayment. I still plan on tweaking my asset allocation, but I've just been distracted by other things and kind of want to wait a full year before making any changes.
All of our Vanguard funds are held at Vanguard.com, where there are no commissions for trading their mutual funds. Currently, everything there is in Roth IRAs, one each for my wife and I. Even though Roth IRAs rock, we haven't contributed to one this year yet because we might be over the income limits for 2007.
The Fidelity fund is also held in-house at Fidelity, where I have my Self-Employed 401k. Funds are also no transaction fee (NTF) there. It's a bit annoying that both their Spartan Total US and International funds have high $10,000 minimums, but the 0.10% expense ratio is nice. I could also trade ETFs, but at $20 a trade it's a bit expensive.
You can see some older posts on how this portfolio came to be here, as well as my previous portfolio snapshots here.