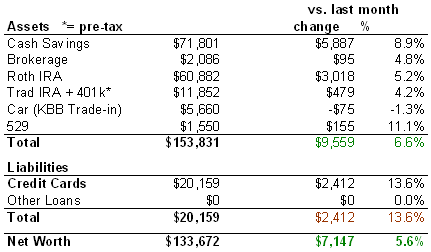 About My Credit Card Debt
Newer readers may be alarmed by my high levels of credit card debt. In short, I'm borrowing money for free and keeping it in safe investments while earning me 5-6% interest. Along with other things, this helps me earn extra side income of thousands of dollars a year. Recently I wrote up a series of step-by-step posts on how I do this. Please check it out if you are curious.
About My Goals
I haven't explained the goals in the progress bar on the top right of this page recently, either. First, I have a mid-term goal of $100,000 in net non-retirement funds (everything but IRAs/401ks). This is designed to help us save for a house downpayment. We'll also need enough for any closing costs plus some for our emergency fund. Second, we have a long-term goal of one million dollars in total net worth by the age of 45. This is not our end goal, as we plan to keep working past 45, but it is something for us to work towards. 65 is just too far away, as are crazy numbers like $3,000,000 🙂
These goals were set more than two years ago, and while our situation has changed a lot since, I am still keeping them around. I may revise them later, especially if we buy a house near the end of this year.
Commentary
Our investment portfolio blipped back up in March. Honestly, this is becoming the only time of the month I even catch a whiff of what's going on in the markets.
We had some pretty large pseudo-unexpected expenses this month. Coupled with our planned Vegas trip, we put a lot of stuff on the credit cards this month. (We never carry a balance though, it's just for the rewards.)
Still, we continue to save more than half of our take-home income while our housing costs are lower. We did track our expenses for February, which was a helpful exercise. I think our spending is in an acceptable range for now. But anything to help us grow that downpayment is good!
Other stats: $51,600 in net cash and $60,900 in total non-retirement assets.
You can see all my previous net worth updates here. I'm getting excited about starting to look at houses, if only to keep an eye on the real estate prices.