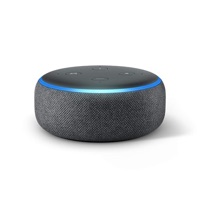 Update: Offer is back again, but sold out quickly last time!
Amazon has brought back a good deal for Prime members interested in a cheap Echo Dot (newest 3rd generation). Sign up for a 1-month Amazon Music Unlimited membership for $7.99, and you get can get an Echo Dot (3rd gen) for only $0.99 (total cost $8.98). Here's how:
Click here for the combined Echo Dot + 1-month trial. You must pay with a credit card (no gift card), which will be used to enroll in Amazon Music Unlimited at $7.99 per month. The shipping is free at checkout.
The membership will auto-renew, but you can cancel your Amazon Music Unlimited trial at any time, anytime before the month is up.
This limited time offer of 1 month of Amazon Music Unlimited Individual Plan and an Echo Dot for $8.98 is available only to customers who subscribe to Amazon Music Unlimited Individual Plan and who purchase an eligible Echo device. Current subscribers are not eligible. After the 1-month promotional term, your Amazon Music subscription will automatically continue at the monthly price of $7.99 plus applicable taxes until you cancel.
Amazon Music unlimited lets you listen to all 60 million songs ad-free and on-demand, you can call up songs with Alexa, and you can listen offline with unlimited skips.