It's failure time! I've talked a little bit about an online business idea that my wife and I had about a year ago. I've even showed a few prototypes. But we've finally laid all hope or desire to pursue this business to rest. Here's the story:
The Idea Forms
It all began when we got a dog. We discovered that not only do people love their pets, but they are willing to spend a lot of their disposable income on them. Dog bakeries. Dog clothes (the bane of my existence!). Dog birthday parties. After buying a few $4 squeaky toys, and having our dog completely obliterate them in 46.6 seconds, we started thinking about making our own dog toys. You can actually buy "squeakers" for about 20 cents each on eBay. Add fabric and stuffing, and you've got yourself a cheap squeaky toy! But it still lasted less than a day.
My wife is great at crafts and sewing things. After several prototypes and using our dog and our friend's dogs as beta-testers, we finally came up with a very durable double-layered squeaky toy. The outer fabric is soft and fleecy, but the inner is super-tough. It lasted almost indefinitely without puncture for most dogs that tried it. To add a personal touch we even have an embroidery machine to add the dog's name to each toy. Here's a late prototype, complete with label and packaging: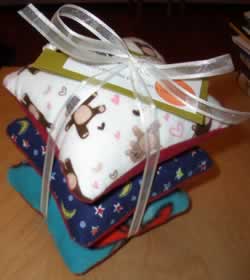 The Problems – Profit? What Profit?
After the materials added up, it was less than $3 per toy. If we managed to reach my price point of 3 for $25 shipped, that would give us about $4 profit on each toy. The problem was that it took us about 20 minutes to make each one, equating to a max of about $12 an hour. Add in the time to design and set up a website, advertising, packing and shipping time, and we'd average a lot less. We looked into local embroidery shops to outsource the customization, but it just wasn't cost effective given our likely low volume.
In the end, I just decided all this manual labor wasn't worth the effort. If we managed to outsource all the work somehow, and were able to just focus on marketing the product, maybe. I'd rather find an idea that scales well and takes very little time to maintain – but wouldn't we all?!
Here's a happy image I ran across 🙂