Investment consultant firm Callan Associates created a neat visual representation of the relative performance of 8 major asset classes over the last 20 years. You can find the most recent one below (click to view PDF), which covers 1989 to 2008. Each year, the best performing asset class is listed at the top, and it sorts downward until you have the worst performing asset. You can find previous versions here.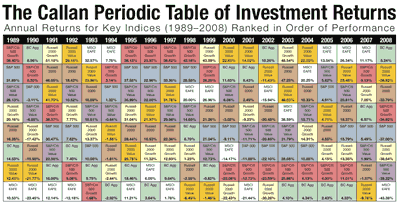 Lessons Learned?
It is always interesting that us humans tend to try and find patterns in everything. Make your eyes shift out of focus for a bit, and most of the table looks pretty random. What is top could easily end up back at the bottom. Callan says that the table shows the value of diversification.
But I also see some streaks. Let's look at the white boxes of MSCI EAFA, which is an index following major developed international (non-US) countries. From 1989-1992 it was in the the dumps, and then from 1993-1994 it was tops. Then there are the pink boxes of the S&P 500 Growth. From 1994-1999 it was either 1st or 2nd. For the next 7 years from 2000-2006, it was nearly last.
What do we learn then? Mostly, that there are no reliable patterns. If we simply bet against what was hot last year, we could get burned for 6 more years. If we just follow what is hot, we probably get crushed too. I bet I can guess where most investor money was flowing at the end of each of these streaks…
Also, while the table compares relative performance, you can also note that absolute performance changes all the time as well. In 2008 the "best" asset class only went up 5.25%, while in 1989 and 1995 the "worst" asset class went up over 10%. Sometimes you just can't win, and other times you just can't lose.
For the most part, it makes me laugh at all the predictions I hear. We're almost halfway done with this year. Who wants to guess what the breakdown for 2009 will look like?