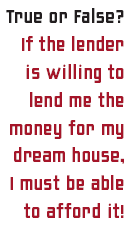 It seems that many people have strong opinions about the subprime mortgage fallout. One common thread was that people really do need to get better educated about the mortgage lending process. What wasn't agreed upon was who should shoulder that responsibility – the lender, the borrower, or the government? My view was that better transparency is in order, and the FTC concurs:
The Federal Trade Commission today released a Bureau of Economics report presenting the results of a study that found that mortgage disclosure forms fail to convey key mortgage costs and terms to many consumers. The study also concluded that better disclosures can be created to help consumers understand the costs and terms of mortgages to enable them to make informed decisions about mortgage products.

?Mortgage disclosures designed more than 30 years ago can be confusing even for simple loans, and they do not address the variety and complexity of today?s mortgage products,? FTC Chairman Deborah Platt Majoras said. ?Although mortgage disclosures, alone, will not prevent deceptive lending practices, consumers who understand mortgage terms and choices are less likely to fall victim to these practices.?
Even if you disagree, the fact is that the government already does have some helpful information out there, and hopefully if we spread the word around the tax money already spent on making them won't be wasted. 🙂 I sure wish Ms. Williams read a couple of these beforehand.
First up is the U.S. Department of Housing and Urban Development, whose mission is to "increase homeownership, support community development and increase access to affordable housing free from discrimination." They have a whole section on Buying A Home, and even a brochure on finding the best mortgage [pdf]. Inside, it shows you how to compare all the costs involved in obtaining a mortgage. There is even a helpful Mortgage Shopping Worksheet included to help you out.
Shopping around for a home loan or mortgage will help you to get the best financing deal. A mortgage? whether it?s a home purchase, a refinancing, or a home equity loan?is a product, just like a car, so the price and terms may be negotiable. […] Shopping, comparing, and negotiating may save you thousands of dollars.
Next, you have a Guide to Mortgage Products [pdf] from the Federal Reserve Bank of Boston. It's presented through a true/false question-and-answer format which makes it very digestible, and has a nice glossary of lending terms at the end.
What you should ask the lender:
? Which of your products offers the lowest interest rate?
? Will my interest rate be fixed or variable (change periodically)?
? If the interest rate can change, when will it change and how high or low can it go?
? If the lender offers an introductory or ?teaser? rate, ask, When does the rate expire and how will the new rate change my monthly payment amount?
? If the rate expires, what will the new rate be, and will it be fixed or variable?
Finally, check out these 12 others from the Federal Citizen Information Center:
– A Consumer?s Guide to Mortgage Lock-Ins
– A Consumer?s Guide to Mortgage Refinancing
– Buying Your Home: Settlement Costs and Helpful Information
– Consumer Handbook on Adjustable Rate Mortgages
– Guide to Single Family Home Mortgage Insurance
– Home Buyer?s Vocabulary
– Home Mortgages: Understanding the Process and Your Rights to Fair Lending
– How to Buy a Home with a Low Down Payment
– How to Dispute Credit Report Errors
– The HUD Home Buying Guide
– When Your Home Is on the Line