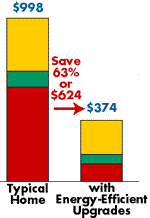 Winter is a comin', which means higher heating costs for much of the country, so you should try out the energy audit tool at Home Energy Saver, a government site which uses advanced simulations to find out cost-effective ways to cut down your utility bills. According to their potential savings calculator, we're talking 50% off here.
First, you give it your zip code, and it pulls up some initial information on your house based on your geographic area. You can then go with those estimates or enter in more details for a more accurate analysis. The tool then calculates your home's energy consumption and potential energy-saving ideas. You can even choose a specific payback period and they will only give you recommendations that will be profitable within that period.

You can then see how your energy costs break down into six categories: heating, cooling, water heating, major appliances, lighting, and small appliances. The site gives great detail. For example, here is the part of the analysis for their recommendation that I install a programmable thermostat, again specific to my house:
Economic Benefits
Estimated Annual Bill Savings: $41
Estimated Lifetime Energy Cost Savings: $615
Upgrade Cost: $70
Return on Investment: 58%
Upgrade pays for itself in: 2 years

Note: Our calculations (bill savings and cost-effectiveness) assume that the heating-season set-point is decreased 4? F during the day (9 am to 5 pm) and at night (11 am to 7 pm), while the cooling-season set-point is increased 3? F during those same periods. Larger set-point adjustments can provide dditional bill savings.
Unfortunately, since we are only going to remain at our current house for less than a year, the only thing that might be worth the cost is flourescent lights, if we remember to take them with us when we move 🙂